Meet & Greets
NDSCS Alumni Foundation 2020 Meet-n-Greets
We are proceeding with several events, following CDC guidelines. Hope to see you soon!
More Information on Meet-n-Greets
Reunions
50 Year NDSCS Wildcat Singers Reunion Celebration - 1970-2020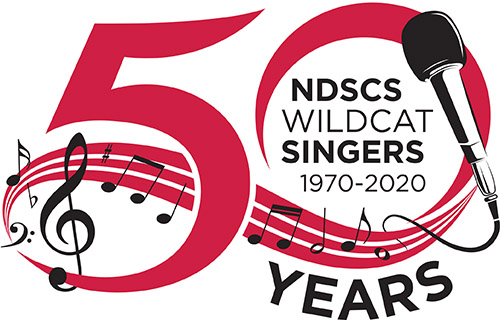 We invite all the NDSSS/NDSCS Wildcat Singers to come back during the 2020 NDSCS Homecoming to enjoy the Wildcat Singers reunion experience. We have social events, rehearsals, a banquet and an Alumni Concert planned.
Wildcat Singers Reunion Schedule:
Friday, September 25, 2020
1:00 - 4:00 p.m.     Wildcat Singers Reunion Check-in and NDSCS Campus
5:30 - 10:00 p.m.   Alumni & Friends Social and Awards
Saturday, September 26, 2020
8:30 - 9:30 a.m.     Coffee with Past Directors
10:00 - 11:00 a.m.  Homecoming Parade 
12:30 - 6:00 p.m.    Rehearsal for Groups participating in Alumni Concert
                               Visiting at Hughes Shelter in Chahinkapa Park
6:00 - 7:30 p.m.      Wildcat Singers Reunion Banquet honoring Past Directors
8:00 p.m.                Wildcat Singers Alumni Concert
Wildcat Singers Reunion Banquet
$20 / Adult (11 yrs. & up)
$10 / Youth (4-10 yrs.)
Wildcat Singers Reunion Concert
$10 / Adult
$ 5 / Student
NDSCS Students - Free
Pay at the door
All proceeds of Banquet and Concert will benefit the NDSCS Performing Arts Endowment Scholarship.
If you are interested in performing at the Wildcat Singers Alumni Concert contact Bryan Poyzer at bryan.poyzer@ndsds.edu