NDSCS 2019- 2020 Athletic Hall of Fame Inductees
The NDSCS Athletic Department would like to congratulate the 2019-2020 Letterwinners Hall of Fame Inductees.
Jennie Bucholz
Mark McElvaney
Shannon Smith Ziemer
2019 Wildcat of the Year - Larissa Gilbertson
1994 Wildcat Football Team
Due to inclimate weather and the cancellation the 2019 Homecoming Hall of Fame Banquet, these inductees will be celebrated and honored during the 2020 Homecoming events.
Jennie Bucholz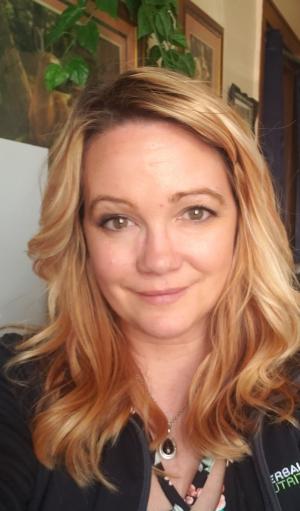 Jennie Bucholz, originally from Frazee, Minn., came to NDSCS after a successful high school career as a three-time Minnesota state high school champion. Jennie was a high jumper for the 1992 and 1993 Wildcat track teams. In 1992, Jennie was the NJCAA outdoor national high jump champion. She placed second at the 1993 NJCAA Indoor Championships, and, was the NJCAA outdoor national champion again that year. Jennie finished second in only three outdoor meets over two years, taking first in all the other meets. 
Jennie graduated from NDSCS in 1993 with a Liberal Arts degree. She returned to NDSCS in 1996, enrolling in the Business Management program. She gained the training to manage several businesses, and ultimately the skills to own her own business.
Jennie currently lives in Perham, Minn. where she runs her own business, H.O.L. Nutrition, and is looking forward to opening several more stores in the upcoming year. She enjoys watching her kids participate in sports, helping local kids with the high jump, spending summers at the lake and auctioning and collecting antiques. Jennie has three children, Syndie, Stevin and Shalie. Her son, Stevin, attended NDSCS from 2017-2019 and was member of the Wildcat men's basketball team.
Mark McElvaney
Mark McElvaney, a native of Scobey, Mont., is a 2001 NDSCS Electronics and Electrical Technology graduate.  
Mark was an NJCAA All-American pole vaulter for the Wildcats track and field team. In 1999, he placed seventh in the Indoor National Championships and fourth in the Outdoor National Championships. Mark was the Wildcat men's track and field team captain in 2000, and placed second in both the Indoor and Outdoor National Championships. He continued his track participation at NDSU, where he placed second at the NCC Indoor Track Meet and fourth at the NCC Outdoor Meet.  
Mark lives in Mandan N.D., and works for Power Grid Engineering out of Lake Mary, Fla., where he travels around the United States updating electrical transmission substations. He uses his NDSCS education in Electronics and Electrical Technology on a daily basis.  
Mark is a board member of the Mandan Hockey Club, a group that initiated the process of building a new multi-sport complex in Mandan. Mandan High School was then able to repurpose the old ice rink into another multipurpose facility.
Mark enjoys softball, fishing and camping with his wife and family. He and his wife, Emily, have three children, Preston, Ellie and Nathan.
Shannon (Smith) Ziemer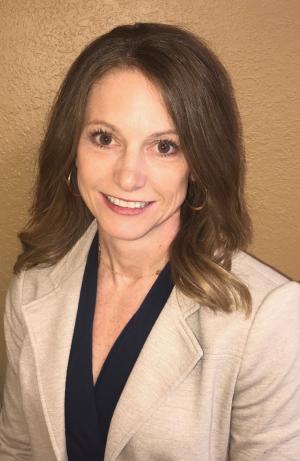 Shannon (Smith) Ziemer came to NDSCS from Tulare, S.D. and is a 1994 Liberal Arts graduate. She was a member of the 1992-94 Lady Wildcats basketball team and played the guard position.  
In 1992-93 she was named to the NDJC All-State Team and All-Region Team. Shannon was also awarded team MVP, and recognized for having the most assists (157), most steals (107) and most points. During the 1993-94 season, she earned NJCAA All-America honorable mention and team MVP. Shannon continued her education at Valley City State University where she played for the Lady Vikings basketball team. She earned her Master of Business Management from the University of Mary.
Shannon currently lives in Casselton, N.D., where she is employed as a Crop Insurance Senior Program Specialist by the U.S. Department of Agriculture's Risk Management Agency. She is responsible for the nationwide implementation and training of Improper Payments Reviews.  
In her free time, Shannon enjoys camping, hiking, golfing, teaching fitness classes and attending concerts. She is a board member of the Casselton Youth Basketball Association and Central Cass Booster Club. Shannon and her husband, Tim, have two children, Samuel and Andrew.
Larissa Gilbertson - Wildcat of the Year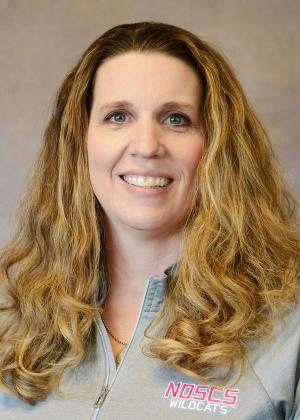 Larissa Gilbertson first stepped onto the NDSCS campus in August of 1994 to visit her best friend from high school, Angi Novak. Angi introduced her to Clint Gilbertson that day in the cafeteria, and Larissa married that NDSCS Wildcat in 1996. 
Larissa graduated from Minnesota State University Moorhead with her bachelor's degree and her Master of Science in education. She taught middle school and high school students in Warroad, Minn., and Badger, Minn. Her family moved to Wahpeton in 2007 and Clint started teaching in the Welding Technology program at NDSCS. Larissa taught at the Wahpeton Middle School for a few years.  In 2011, she was offered a position instructing Math for the NDSCS Academic Services Center. 
"I absolutely love teaching at NDSCS. The Wildcat students are the best around; they put a smile on my face EVERY DAY!" stated Larissa. She understands that even though we have fun while we learn, many students have even more fun participating in a sport. Larissa enjoys watching students excel and having fun playing their sport.
In her years at NDSCS, Larissa earned the student-nominated Excellence in Teaching Award in 2012 and 2018. Many students showed their appreciation by honoring Larissa on Faculty Appreciation Day during the NDSCS Wildcat basketball season.
Larissa and Clint have three children: Shea (18), Sidney (13) and Cale (10). They are very active in the community and Clint volunteers for the Wahpeton Fire Department. You will see the Gilbertsons at many of the Wildcat athletic games and performing arts activities. They are members of the NDSCS Catbacker Club and support the Alumni Foundation by volunteering for the DREAMS Auction. Larissa has always been inspired by her parents, Peggy and Larry O'Shea, to work hard and make things happen. 
Congratulations to Larissa Gilbertson, the 2019 Wildcat of the Year recipient!
1994 Wildcat Football Team

The 1994 NDSCS Wildcat football team was the RC Cola Bowl Champion and broke a number of records. The team finished the regular season with an 8-1 record. It was the first time any NDSCS football team had more than seven wins during the regular season. The 'Cats also went 5-1 to share the conference title with Waldorf College. Waldorf suffered its only loss to the NDSCS Wildcats (33-14).
After starting the season with three victories, including a win over Waldorf, the Wildcats lost in heartbreaking fashion to North Iowa Area Community College (38-27). In that game, the 'Cats were ahead (27-24) at one point in the fourth quarter. 
The Wildcats won their remaining regular season games. The five-game winning streak included wins against conference foes Iowa Central (35-16), Highland (48-26) and Ellsworth (41-26).
The NDSCS Wildcats defeated Rochester Community College (27–20) to win the RC Cola Bowl and to finish the season with a 9- 1 record. The Wildcats boasted the top offense in the conference, averaging 393.8 yards per game with 238 on the ground.
The Wildcats were led by freshman running back Tommy Reynolds. Reynolds rushed for 1,473 yards and 24 touchdowns. The Wildcats also had success passing with freshman quarterback Brett Thoni and wide receivers Eric Bryan and Nikko Cooper. Thoni had a completion percentage of 53.1. Bryan caught 51 passes for 656 yards and Cooper caught 28 passes (10 for touchdowns) for 452 yards. 
The Wildcat defense finished the season as the second ranked defense in the conference, giving up just 254 yards per game. Defensive statistics were not available at the time of this article. 
The 1994 Wildcat Team included many award winners: Al Brinkley, OL, Region XI All-Conference; Marcus Bonifas, OL, NDSCS Outstanding Offensive Lineman, Co-Captain; Eric Bryan, WR, Region XI All-Conference; Tony Clark, DB, Region XI All-Conference; Daren Lloyd, LB, Region XI All-Conference, Top Linebacker, NDSCS Outstanding Defensive Back, Co-Captain; Tommy Reynolds, RB, Region XI All-Conference, Region A1 Top Running Back, NDSCS Outstanding Offensive Back, NDSCS Most Valuable Player; Cory Olson, DL, Region XI Al-Conference, NDSCS Outstanding Defensive Lineman.
Special thanks to Max Reinke and Scott Nulph for their assistance with information for this article.
off