Congratulations to the 2023 NDSCS Alumni Homecoming Honorees
Tom Shorma, Alumnus of the Year
Josh Dozak, Young Alumnus of the Year
Mike Felling, Parade Grand Marshal
Jim & Ellen Sturdevant, Family Tradition Award

Alisa Mitskog Yaggie, Friend of the College

Jeff Hart, Wildcat of the Year
Alumnus of the Year - Tom Shorma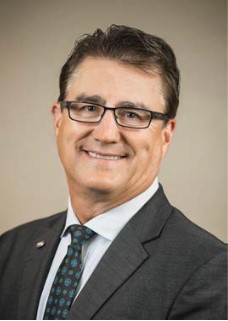 Tom Shorma, an NDSCS graduate, has led an active and accomplished life since leaving NDSSS in 1978 with a Liberal Arts Degree. He has been a loyal alumnus, donor, supporter, and champion of NDSCS every year since graduation, demonstrating his deep understanding and appreciation of the NDSCS mission in countless ways. He was part of the support team that worked alongside state legislators and SBHE members to establish the Skills and Technology Training Center in Fargo during the early 1990s. Fast forward to 2021, and Tom is right there supporting and providing legislative testimony to advance the NDSCS Career Innovation Center in Fargo.
Tom is a business, marketing, advertising, and coaching graduate and football alumni of the North Dakota State School of Science (1978) and the University of North Dakota (1980). He has served on program advisory committees, the NDSCS Foundation Board, and the Wildcat Catbacker Club. Tom and WCCO have been great contributors…together they have been long-standing Wildcat Athletics supporters. He was inducted into the NDSCS Athletic Hall of Fame in 1998 and the UND Athletic Hall of Fame in 2010 and was a charter inductee into the Richland County Athletic Hall of Fame. The NDSCS Shorma Family Workout Gym (located in Clair T. Blikre Activities Center) was dedicated in 2019. Tom also served on the search committee for our 10th president of NDSCS.
He was also most recently the CEO/President of WCCO Belting, Inc., located in Wahpeton, North Dakota. He held that title since late 2001. WCCO Belting was then a privately owned primary sector manufacturer of agricultural and industrial rubber belting and conveyor products. During his tenure with WCCO, the company grew its revenues by 1000%, with as much as 60% of total annual sales generated from customers located outside of the United States. During that time, Tom hired many part-time and full-time employees who were/are NDSCS students and graduates.
Tom and his wife, Julie, have been instrumental in bringing guests from the Fargo area to the annual NDSCS Foundation DREAMS Auction. They have invited and transported many donors – reconnecting them to the college – through their invitation to join them at their table. Tom utilizes every opportunity to advocate for NDSCS – be it local, regional, or statewide. Tom and his family are long-standing staunch supporters of NDSCS who develop relationships with people who may or may not be connected to the college and (over time) cultivates them to support the college (financially and publicly) year after year.
Tom lives in Fargo, North Dakota, and is married to Julie (Fisher) Shorma. They have four children, Karley (Tony) Serati of Fargo, North Dakota; Cassie (Tucker Bartlett) Jamestown, North Dakota; Maggie (18) and Thomas (TJ) (17) of Fargo, North Dakota, and his grandson, Asher Bartlett.
We are honored and grateful to name Thomas D. Shorma as our NDSCS Alumnus of the Year. He lives and breathes NDSCS, and his support and relationship-building since his graduation in 1978 are second to none, and he truly deserves the Alumnus of the Year Award.
Young Alumnus of the Year - Josh Dozak
Josh Dozak grew up in Wahpeton, graduating in 2000 from Wahpeton High School. He attended NDSCS, graduating in 2002 in Pre-Pharmacy. Josh then attended North Dakota State University, receiving his bachelor's degree and Doctor of Pharmacy. He currently owns and operates Wheaton Drug and Gift, providing professional pharmacy services to the community.
Josh has exemplified outstanding leadership, character, and humility at a young age. Before the age of 40, he understood the significance of education and the opportunities that NDSCS, a 2-year college, can provide.
Josh and his wife, Tracy (a Nurse Practitioner), started the Josh and Tracy Dozak Scholarship Endowment in 2015, impacting dozens of lives by providing scholarship opportunities for nursing or pharmacy students, "hoping to encourage students to stay in the community." Josh's most significant philanthropic contributions are not only through monetary giving, but by attending and participating in many DREAMS Auction events.
He has given his time and volunteerism to the Alumni Foundation Board, serving as Vice President and President. Josh lives a life that exemplifies NDSCS L.I.F.E. Values — Learning: Engage the campus community in a lifelong learning environment inside and outside the classroom. Integrity: Work with others and conduct ourselves in a respectful, ethical, honest, and trusting manner. Flexibility: Consider ideas from all sources and adapt to the needs of our patrons. Excellence: Deliver superior programs and services that distinguish the college from its peers.
Josh and Tracy have two young boys, Gabe and Michael. They love spending time at their home on Big Stone Lake in Minnesota.
The NDSCS Foundation is honored to celebrate Josh as the first Young Alumnus Award for the NDSCS Alumni Foundation.
Parade Grand Marshal - Mike Felling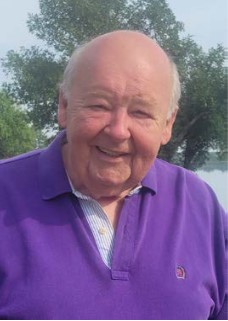 Mike Felling is a born leader, and we are proud to have him as our Parade Grand Marshall for Homecoming 2023.
Mike joined the Army after high school and served three years from 1957-1960. He was stationed in Ft. Sill, Oklahoma, and toured Germany while serving in the Army. In 1961, Mike enrolled at Dunwoody Institute in Minneapolis for Graphic Arts. Two months after the paperwork and fees were paid, Mike was informed that the class was full and was told to re-enroll in 1962. Another alumnus of NDSSS (and a Graphic Arts grad) convinced Mike to come to Wahpeton. The alumnus said the Graphic Arts program is better here — and that he'd enjoy the college atmosphere, and that he did. The rest is history, a decision that has lasted a lifetime. "Once a Wildcat, always a Wildcat!"
Mike's fondest adventure was a bike ride across Minnesota for a Multiple Sclerosis benefit. The ride started in Ortonville and ended at the Minnesota border near Wisconsin a week later. His goal was to make it without any injury or getting hit by a car – he was successful in that goal. Mike also participated in the M.S. Benefit Bike Ride for five years. They called their team of four the "Slo-Spokes," and they raised more money than any of the other 25 teams. He once shared, "I have never felt better and prouder about helping to find a cure for this disabling disease!"
He has also led the fundraising activities of his 1962 Wildcat Football Team. That team created the 1962 NDIAC Football Championship Endowment in 2020. Mike got over 50 people to donate to the endowment by writing letters and calling them.
Mike truly loves NDSCS and has shared his stories at the Scholarship Luncheons held in the Hektner Student Center each year on the NDSCS campus.
Mike and his wife, Judy, live near their children and grandchildren in Sauk Centre, Minnesota.
Family Tradition Award - Jim & Ellen Sturdevant Family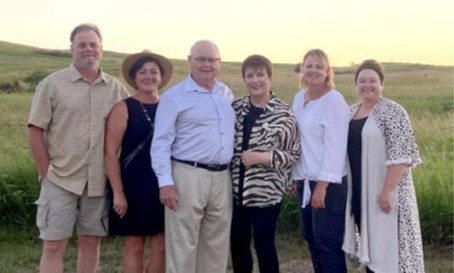 The Jim and Ellen Sturdevant family history with NDSSS and NDSCS began in 1922 when Charles and Lucy (Jim's grandparents) purchased John Ness's battery and auto repair business. Mr. Ness had taken a teaching position with NDSSS and was hired to develop the auto mechanic program at the new "trade and technical division" established by the Babcock Plan and adopted by the State Board of Administration in 1922. In 1925 their grandfather Charles was hired by NDSSS to teach a class in Storage Battery Rebuilding – which he did in his downtown shop – making him one of the first adjunct teachers of NDSSS.
In 1941, NDSSS became a Navy base with a machining engine class taught by the Sturdevant boys' father, Virgil Sturdevant, a 1936 graduate of NDSSS. When World War II broke out, Virgil continued with the Navy as a Warrant Officer on PT boats in the Mediterranean Sea. He contributed to rebuilding the Packard Marine engines used in those Patrol Torpedo (PT) boats. Each PT boat contained three 12-cylinder engines.
Ben Barnard (for whom Barnard Hall was named) married Ellen's aunt, Effie Muir. Ben was hired to develop the electrical trades program at NDSSS in 1922.
Their connection to NDSSS continued as both Jim and Ellen's homes were in the first block south of the 6th Street school entrance, and the grounds of NDSSS became their playground. Jim had five brothers and a sister, and all but one attended NDSSS.
Jim Sturdevant, the third oldest of the Sturdevant boys, graduated from NDSSS in 1961 with a Liberal Arts degree. He continued his education at Moorhead State University, graduating in 1963 with a business degree. While at NDSSS, Jim participated in football, basketball, and baseball. He has continued a close association with the college serving on several boards, was president of the Alumni Foundation, was elected to the Athletics Hall of Fame in 2000, and was selected "Alumnus of the Year" in 2001. Jim also received the L.B. Hartz Professional Achievement Award from Moorhead State College of Business in 2017. Jim continued his dedication to the city of Wahpeton by serving 16 years on the city council and 8 years as Mayor.
Ellen (Muir) Sturdevant graduated from NDSSS in 1962 with a degree in Pre-Education. Jim and Ellen were married after Jim's junior year at MSU. While at NDSSS, Ellen participated in chorus, the Sacagawea Club, the Dakota Scientist staff, and other various committees. Later she continued her music education privately at MSU and NDSU and attended many pedagogy workshops and seminars. Ellen was active in state, national, and local Music Teachers' Associations and taught piano (and did accompanying) in Wahpeton for many years. Ellen truly valued Vernon Hektner as an advisor and favorite teacher. Jim and Ellen lived in Moorhead for 12 years, where their five children were born.
Susan (Sturdevant) Nagel is a 1984 NDSSS graduate of Liberal Arts. Susan was active in the music department, accompanying the choirs, playing in the jazz and concert bands, and as a member of the Wildcat singers. She also was a sprinter on the track team for one year, placing 5th at the Junior College National Meet as a member of the 400-meter relay team. Susan continued her education at Moorhead State University, earning a BS in Piano Performance and later a master's degree at NDSU. She works as a teacher and collaborative pianist in the Fargo-Moorhead area. Susan's husband, Tom (originally from Bismarck), is a 1985 graduate of NDSSS in Electronics Technology. He is currently the Vice President of Sales at D&M Industries in Moorhead. Together they have three children: Tyler, a longtime employee at the West Fargo DQ; Matthew (Brianna), a software consultant/teacher; and Lindsay, a firefighter for the city of Seattle, Washington. Susan and Tom enjoy spending time with their grandsons, Grant and Henry.
Cathy (Sturdevant) Michels attended NDSSS from 1983-84. Cathy transferred to NDSU in Fargo and graduated in 1988, earning a degree in Interior Design. While Cathy was a senior at Wahpeton High School, she took an Architectural Drafting class at NDSSS from Roger Jensen that sparked her interest in the design field. Cathy began her career in Minneapolis working as an interior designer. She moved to Moorhead, where she currently lives with her husband, Kevin, and has worked designing custom cabinets since 1999. Cathy and Kevin have twin daughters–McKenna is a 2020 graduate from NDSCS with a degree in Dental Hygiene. McKenna lives in Fergus Falls, Minnesota, and currently works for LifeSmiles Dental. Morgan lives in Detroit Lakes and works in the healthcare field as an X-ray technician.
Brad Sturdevant graduated from NDSCS in 1989 with a degree in Civil Engineering Technology. His first job was in Spearfish, South Dakota, doing general surveying and construction inspection. In 1990, he joined DJ&A Engineering in Missoula as a crew chief focusing on Cadastral Land Surveys, GPS, and remote surveying technology. He and his wife, Nancy (a PhD Entomologist), have two sons. Jimmy attended NDSCS in the diesel technology program and is employed with Lithia Ford in Missoula. Sam is presently a student at the University of Montana-Western.
Jane (Sturdevant) Koppang graduated from NDSCS in 1993, earning a degree in Business Management. After raising their children, Jane rejoined the workforce at Chahinkapa Zoo, NDSCS, and at the Clinic for Oral Health. Jane is married to Kevin Koppang, a 1990 NDSCS graduate in Architectural Drafting and Estimating, Construction Management, and Business Management. Kevin is the General Manager for Comstock Construction. Jane and Kevin have three children. Connor Koppang is a 2015 Construction Management Technology graduate; his wife, Karly Sokness, is a 2015 Liberal Arts grad. Connor finished his degree at Minnesota State University-Moorhead, and Karly finished at NDSU. Connor is a project manager for the Kilbourne Group in Fargo, and Karly is an industrial engineer for Noridian Health. Blake graduated from NDSCS in 2022 in the Electrical Program and works for Summerville Electric. Kristen (Andrew) Bonine lives in Prescott, Wisconsin, and has three children.
David Sturdevant graduated from NDSCS in 1992 with a degree in Liberal Arts. He transferred to the University of Southern Colorado, where he obtained an Automotive/Business Management degree. After graduation, David worked in sales for an Automotive Computer Company. In 2000, David started an automotive tool internet sales business where he's self-employed. He resides at Otter Tail Lake, Minnesota.
The NDSCS Foundation is proud to honor this great family as the 2023 Family Tradition Award winner.
Friend of the College - Alisa Mitskog Yaggie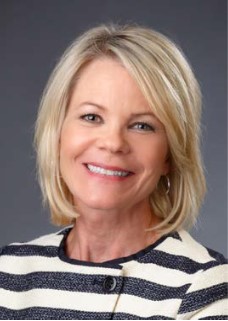 Alisa Mitskog Yaggie is a Wahpeton native and an NDSSS 1985 Liberal Arts alum. She went on to the University of North Dakota and Logan College of Chiropractic and has practiced chiropractic for 30-plus years. Alisa owns Mitskog Chiropractic in Wahpeton.
Alisa is involved in many community organizations. She serves as District 25 Representative in the North Dakota Legislature, has served as Wahpeton City Council President, served on the Economic Development Commission, the ND League of Cities executive board, the Breckenridge-Wahpeton Community Foundation, Zonta, provided Chiropractic services to NDSCS athletics, served on the NDSCS Foundation Board and is a current NDSCS Catbacker/letterwinner board member.
Alisa has shown tremendous support for NDSCS over the past 37 years. We believe that she meets (and exceeds) the criteria established for the honor of Commitment to Excellence. Alisa consistently demonstrates her love and passion for the college. First and foremost, she is an ambassador for NDSCS. She is ready and willing to jump in and help no matter the occasion. You may find her at sports activities, Homecoming, DREAMS events, or representing NDSCS proudly at the state level. Alisa always does a great job of making sure NDSCS is shown in a positive light.
Alisa actively donates her time, talents, and treasures — supporting the efforts of the NDSCS Foundation through scholarships, endowments, and annual giving. Alissa and her husband, Allen Yaggie, participate actively in many NDSCS functions and athletic events. They have sponsored NDSCS Meet and Greets and other related activities. Their donations through the years have supported the Alumni Foundation, NDSCS Athletics, academic services, and numerous other departments.
She and Allen are proud parents of three daughters: Madison Yaggie Schuler (George Schuler IV), Mackenzie, and MiraBella, and they have three granddaughters.
Alisa's continued commitment to NDSCS makes her the perfect recipient of this year's Friend of the College award.
Wildcat of the Year - Jeff Hart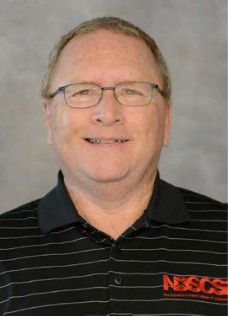 Jeff Hart started teaching at NDSCS in the Fall of 2007. "I just love it here–a very unique place. Coming from Minnesota, I was familiar with community colleges that looked like overgrown high schools, all in one building. NDSCS has a college feel and alumni backing that I don't think any other two-year school has to offer."
After graduation from Moorhead State University, Jeff taught for 21 years at Kittson Central High School in Kennedy and Hallock, Minnesota. Jeff has a long history with athletics. He coached football in Kennedy, Minnesota, and then at the combined Kittson Central District, which included Hallock and Humboldt/St. Vincent, as well as Kennedy. His team won the Nine-Man State Title in 1994, and Jeff still proudly wears his State Championship ring.
Jeff has served on the NDSCS Faculty Senate, holding the offices of secretary, vice-president, and president–as well as being NDSCS's representative to the state-wide Council of College Faculties, where he served as parliamentarian for five years. Jeff chairs the NDSCS General Education Committee and has served as the North Dakota General Education Council's vice president, president, and parliamentarian. Jeff comments that his saintly wife, Shelly, has put up with him for 41 years (by Homecoming). They have three adult children, Dustin, Spencer, and Sadie, a daughter-in-law Bekkie (Dustin), and one grandson, Archer.
"I love being a part of the NDSCS family. I am surrounded by an excellent and caring faculty, staff, and administration, and I absolutely love my job. Interaction with the students and the knowledge that I have made a difference for some of them gives me great satisfaction. Many of my college fraternity brothers are now retired and tease me that I should join them. I tell them I am not interested as I have too much fun doing what I love."
Congratulations to Jeff on being name the 2023 Wildcat of the Year.
off
The NDSCS Alumni Foundation Awards are honors bestowed on Alumni and Friends of the College.  These awards recognize individuals or groups that display exemplary achievement, service and loyalty.  They are given annually at the Homecoming Alumni Foundation Awards and Recognition Program.