Congratulations to the 2020 NDSCS Alumni Homecoming Honorees
Michael Worner, Alumnus of the Year
Anton & Em Krebs Family, FamilyTradition Award
Tom Shorma, Wildcat of the Year
Great Plains Hospitality - Dan Hurder, Friends of the College
Larry Merbach, Parade Grand Marshal
Michelle Nelson, Commitment to Excellence
Also honoring the 2019 Family Tradition Award recipients 
Joseph & Louise Krebs Family, 2019 FamilyTradition Award
Alumnus of the Year
Michael Worner
When you think of the qualities of Alumnus of the Year, it's obvious why Dr. Michael Worner is our 2020 recipient. Mike grew up in Wahpeton, where he graduated from high school in 1960. He was an excellent student and standout athlete, participating in track, football, basketball and baseball. He worked for his father in the family business during the summers, and following graduation, he served his country in the Army National Guard. He enrolled in pre-education at what was then NDSSS in the spring of 1961, joining his brother, Roger. At NDSSS, Mike served as president of the student cabinet, managed the intramural program and was a starting player on the baseball and football teams. Mike's athletic and leadership skills were honored in 2007 when he was inducted into the NDSCS Athletic Hall of Fame. In 2012, the entire 1962 championship football team was also inducted into the Hall of Fame. He graduated from NDSSS with a Liberal Arts degree in 1963.
Mike met and married Marilyn Lunneborg, an elementary teacher in Wahpeton, while attending NDSSS. They resided in Wahpeton and Mike commuted to Moorhead State College, where he completed his bachelor's degree in Elementary Education in 1965. He earned his master's degree and doctorate at the University of North Dakota. During his career, he served as a teacher, principal, director of curriculum and superintendent of schools. In his last position, he served as a professor of education at Mayville State University, was awarded the Burlington Northern Teacher of the Year, then retired in 2003.
Throughout his career, Mike was well-traveled, working in California, North Dakota, Minnesota, Illinois and then back to North Dakota. This is evidenced by the fact that all three of Mike and Marilyn's children were born in different states, and now reside in three different states. 
In retirement, he served as the Mayville City Council President, and as a board member for Mayville-Sanford Hospital, Thrivent Financial and Valley Services. Mike currently serves on the NDSCS Foundation Board and the ND-AARP Executive Board.
Dr. Michael Worner has always been a champion of NDSCS through his generous donations and by attending events. He and his family, including his mother, Pauline, and brothers, Wayne (Dempsey) and Roger, were recently awarded the NDSCS Family Tradition Award.
The Worners have three children: Matthew, an auditor for the U.S. Department of Defense; Michelle Kommer, the North Dakota Commerce Commissioner; and Martha, a private attorney. They have three grandchildren, Morgan, Mya and Channing. 
Worner stated, "My time at the State School of Science was one of the most meaningful parts of my life and I will never forget the faculty, staff and students who played a major part in my life."  He has many wonderful memories of NDSSS staff, including Vernon Hektner, Stan Strege, Mercedes Morris and Skip Bute. He felt each one of them genuinely cared about him. Dr. Worner stated that his attendance at  "Science" was the best educational experience of his life and it set the stage for future success. He genuinely loves his alma mater and demonstrates it with his support and action. 
We are proud to present Dr. Michael Worner as our 2020 Alumnus of the Year.
Parade Grand Marshal
Larry Merbach
Other than buildings, what has lasted longer than 50 years at the College? The answer is our 2020 Parade Grand Marshal, Professor Larry Merbach. A native of Drake, N.D., Merbach decided to become a teacher while still in high school, but first, he served his country in the U.S. Air Force. He began teaching in Fairmount, N.D., before coming to NDSCS in 1966. He transitioned to the private sector in 1976, and then went back to teaching at UND Williston, now known as Williston State College. In 1980, Larry returned to NDSCS, where he's been a mathematics and science professor ever since. 
Larry served under five presidents during his tenure, and when discussing changes that have occurred, he references technology and computers on campus. He wore a sport coat to class every day and says many students wore them in his earlier teaching days. Larry believes in lecturing less and letting the students solve problems themselves, utilizing the old slogan, 'Where Students Learn by Doing'. When asked about a unique classroom moment, he tells the story of teaching the fundamental theorem of calculus, and at the conclusion a student said, "That's poetry!" Larry has also authored some of his own textbooks about computer literacy and trigonometry. Larry planned to retire upon completing his 50th year of teaching at the conclusion of the 2019-2020 academic year but has been asked to teach a Calculus class in the fall of '21.
Larry's travels around the world taught him an important lesson: that people everywhere want the same things -- peace, security and safety for their families. Larry and his wife, Renelle, recently celebrated their 39th anniversary. They have four children and six grandchildren.
For his 50 years of dedication to the students and the mission of NDSCS, we are pleased to honor Larry Merbach as our 2020 Parade Grand Marshal. A drive that runs through campus was also recently named in his honor, Merbach Drive.
Family Tradition Award - 2020
Anton & Em Krebs Family
​Front Row: Amos Krebs, Anthony Krebs, Emerentiana(Em) Krebs, Anton J. Krebs, Alan Krebs, Aaron Krebs
Back Row: Adrian Krebs, Elsa Littel, Edwina Thielen, Emily Fisher, Eloise Strege, Andre Krebs, Arthur Krebs
The Anton and Emerentiana (Em) Krebs family from New England, N.D. have a strong tradition with NDSCS. All eleven of their children attended and graduated from the College. Not only are they strong ambassadors for NDSCS, but many have continued to live and work in North Dakota. Anton and Em were very proud of their children and attended many Parent's Day open houses.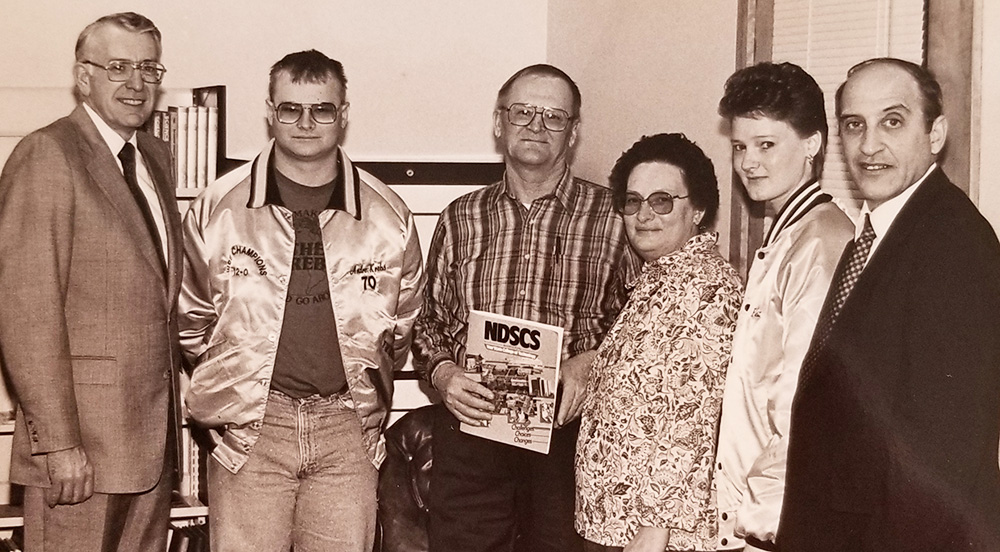 Their children include:
Anthony Krebs, the oldest, is a 1976 Machine Tooling graduate and participated in football and wrestling. After graduation, he worked in Rolla, N.D., at the William Langer Jewel Bearing Plant. In 1980 he married Kathryn Rubie, moved to Belfield, N.D., and worked for Precision Machine. With his NDSCS education and years of experience, he started his own business, Krebs Machine & Repair, LLC in 1992, and now employs two of his sons full time. Anthony and Kathryn have seven children and eleven grandchildren.
Alan Krebs, the second child of eleven, has a 1976 Small Engine Repair degree and 1977 Welding degree. He worked twenty years welding for several businesses. Alan and his wife, Lilah, now operate a dairy and grain farm in Gladstone, N.D. They have six children and eleven grandchildren.
Aaron Krebs, sibling number three, is a 1978 Diesel Technology graduate. Aaron has worked as a diesel mechanic his whole career, with the last 26 years as sole proprietor of Krebs Diesel Service. Aaron and his wife, Linda, reside in Dickinson, N.D. They have four children and two granddaughters. Their son, Caleb Krebs, is a 2018 NDSCS graduate from the Caterpillar Dealer Service Technician program and is currently employed with Butler Machinery Company in Dickinson.
Adrian Krebs is the fourth sibling and has a 1979 Diesel Mechanics degree. He worked for 20 years as a bus mechanic for Dickinson Public Schools and is currently working for the City of Dickinson in Public Works as a fleet mechanic. Adrian and his wife, Faye, live in Dickinson, and have two sons and one granddaughter.
Amos Krebs, sibling number five, is a 1980 Diesel Technology graduate. Following graduation, he began employment at North American Coal-Coteau Freedom Mine. He then worked 38 years with Coteau as a diesel mechanic and is now retired. Amos and his wife, Audrey, live in Beulah, N.D., and have five sons and two grandsons. Their son, Travis, is a 2007 NDSCS Auto Body Repair and Refinishing Technology graduate and owner of Krebs Auto Body in Beulah. 
Emily (Krebs) Fisher, the sixth sibling, has a 1982 NDSCS Accounting degree. She has continued to work in the accounting field, spending the last 29 years with Community Action Partnership. She and her husband, Doug, farm and ranch near Dickinson. Doug is a 1983 NDSCS Auto Mechanics graduate. They have three children and one grandchild.
Edwina (Krebs) Thielen is the seventh sibling and graduated in 1983 with an Accounting degree. She is currently employed at the University of Minnesota as a Lead Software Developer. Edwina (Winny) met her husband, Kurt, while attending NDSCS. Kurt is a 1983 Computer Programming graduate and is now CEO of Qterics, a technology and services company. They live in Maple Grove, Minn., and have two children.
Arthur Krebs, the eighth sibling, graduated from NDSCS in 1985 with a Diesel Mechanics degree. After working as a mechanic for 10 years, he returned to the original family farm in New England, where he farms and ranches. 
Eloise (Krebs) Strege is the ninth sibling and is a 1987 Data Processing graduate. She worked for five years at Ferguson Brokerage as a computer operator. Eloise and her husband, Steven, farm and ranch near Lidgerwood, N.D. Steven is a 1981 NDSCS Diesel Mechanics graduate. They have five children and one grandchild.  Three of their sons are NDSCS graduates: Shane Strege, 2012 Farm Management; Shawn Strege, 2014 Ranch Management; and Sherwin Strege, 2018 Diesel Technology - Case IH.
Elsa (Krebs) Littel is the tenth sibling and a 1989 Computer Information Systems graduate. Elsa is currently employed by ISD287 and lives in Maple Grove, Minn., with her husband, John. They have three children.
Andre Krebs is the eleventh child in the Krebs family and graduated from NDSCS with an Automotive Technology degree in 1991. He has worked for the past 25 years at Puklich Chevrolet in Bismarck, N.D., as a service technician.
Anthony commented, "Some relatives and neighbors had shared their positive experiences of attending NDSCS and that played a factor in my choice to attend there." Work-study and on-campus jobs helped with expenses and, for Anthony, the ability to purchase a car. Anton and Em Krebs with their eleven children were a hard-working farm family. NDSCS provided an affordable opportunity to choose a career path for each one of them.
The NDSCS tradition now continues into the next generation with some of Anton and Em's grandchildren. Congratulations to the Anton and Em Krebs family for receiving the NDSCS 2020 Family Tradition Award. 
Friend of the College
Great Plains Hospitality - Dan Hurder
Dan Hurder, CEO and founder of Great Plains Hospitality, graduated from high school in Cleveland, Ohio. He received his degree in Hotel Restaurant and Tourism Management at the University of Denver College of Business in 2004. Dan began his career with Hilton Garden Inn hotels. After eight years of operations-based positions, including most recently as the General Manager of the Hilton Garden Inn of Fargo, he ventured into the world of entrepreneurship with the purchase of the Otter Supper Club and Lodge in Ottertail, Minn. Since his first venture in lakes country, Dan has opened four additional locations with The Boiler Room and Twist, both on Broadway in downtown Fargo, and Chefs Table Catering, which operates out of the Sanctuary Events Center in Fargo. Hurder and a group of local investors added a second Boiler Room location in downtown Wahpeton in 2017.
Dan and his many businesses have been consistent supporters of NDSCS through their donations to the Alumni Foundation's DREAMS Auction and hosting the annual summer Meet and Greet events at Ottertail Lake. 
We are pleased to recognize Dan Hurder as our 2020 Friend of the College for his dedication and generosity to the Alumni Foundation.
Commitment to Excellence
Michelle Nelson
Michelle is a 2000 graduate of Mayville State University with a B.S. in Business Administration. She began her employment at NDSCS in 2011 in the Office of Institutional Effectiveness, then worked in the Grants Management Department. Currently she is a staff accountant for the NDSCS Business Affairs Office and serves as the NDSCS Foundation Treasurer. 
Michelle's responsibilities for the Foundation include overseeing the investments, endowments, annuities and operating budget, and assisting with audit processes. Michelle is also an Ex-Officio member of several committees, which include the Foundation Investment Sub-Committee, the Foundation Executive Committee and the Full Alumni Foundation Board.
She served the campus community on the NDSCS Wellness Committee from 2012-2017, serving as the committee chair for two of those years. Michelle now serves on the Richland Wilkin Community ACTIVE task force. 
Michelle and her husband, Cullen, have two daughters, Olivia (an 8th grader) and Codi (a 5th grader). Michelle enjoys spending time with her family and friends, attending her girls' events, reading and warm weather outings. 
Her dedication to NDSCS and the Alumni Foundation is greatly appreciated, and we are very lucky to have her on staff. She has enabled the Foundation to move forward positively and provided immeasurable support. Congratulations to Michelle Nelson as the 2020 Commitment to Excellence award recipient.
Wildcat of the Year
​Tom Shorma
Thomas Shorma is the C.E.O. / President of WCCO Belting, Inc., which is located in Wahpeton, N.D. and employs 270 people at two facilities. The company is part of a group of companies owned by the Shorma Family, which is celebrating 66 years of family business in 2020. Thomas is a frequent guest speaker at various North Dakota University System institutions and at various national and state business conferences.
Tom is a business, marketing and advertising graduate and football alumni of the North Dakota State College of Science (1978) and the University of North Dakota (1980). He was inducted into the NDSCS Athletic Hall of Fame in 1998, and again with his team in 2017. His UND team was also inducted into its Athletic Hall of Fame in 2010.
Tom and WCCO Belting, Inc. both support NDSCS in many ways. WCCO is an NDSCS Athletics Sponsor and Catbacker member and supports of the Alumni Foundation DREAMS Auction. Tom and his wife, Julie, are also Foundation Club members. The Shorma family made a generous donation to the NDSCS Athletic Department to use in updating the free weight gym with new rubber flooring produced by WCCO in January of 2019. The gym was renamed the Shorma Family Gym in recognition of the donation. WCCO offers NDSCS fitness memberships to all of its full-time employees as part of the company's wellness program. "I am honored and humbled to accept this nomination from NDSCS, my hometown and first collegiate experience," commented Tom.
Tom lives in Fargo, N.D. and is married to Julie (Fisher) Shorma. They have four children: Karley (UND class of 2010), Cassie (NDSCS class of 2013 and Valley City State University class of 2016), Maggie (14) and Thomas / TJ (13).
"We are proud to honor Tom as the 2020 Wildcat of the Year," shared Kim Nelson, NDSCS Foundation Executive Director.
Family Tradition Award - 2019
Joe & Louise Krebs Family
The Joe and Louise Krebs family has been selected as a recipient of the 2019 NDSCS Family Tradition Award. Eight of Joe and Louise's children and four grandchildren are NDSCS alumni, and one is a current student. Matt was the first of their twelve children to venture across the state from New England, N.D. to enroll at NDSCS. The Krebs family members came to NDSCS because it offered the programs in their areas of interest, work-study options and strong job placement.
The members of the Joe and Louise Krebs family that attended NDSCS include:
Matt Krebs, the third child in the family of twelve, is a '77 Land Surveying and Civil Engineering Technology graduate and resides with his wife, Kerry, in Dickinson, N.D. They have two sons and two grandsons. Matt worked for KLJ in Dickinson for 39 years as a professional land surveyor licensed in four states and retired in January of 2018. Matt played football for the Wildcats and earned All-Conference honorable mention in 1976.
Frank Krebs, the fourth sibling, is a '79 Automotive Technology graduate. He and his wife, Nancy, live in Hardin, Mont. After graduating from "Science," Frank worked in an auto body shop for 12 years and now is the head mechanic for the school district. They have three sons, who all traveled the 650 miles to attend NDSCS, one daughter and nine granddaughters.
Ralph Krebs, sibling number five, followed his two brothers to NDSCS and enrolled in the Automotive Technology program, graduating in 1979. He was part of the 1977-78 Wildcat football team that was recently inducted into the NDSCS Athletic Hall of Fame. Ralph was married to his late wife, Aggie, for 25 years. He resides in Dickinson, N.D. and works as an automotive mechanic at Sax Motors a GM Dealership, since graduating from NDSCS.
Helen (Krebs) Rummel is the seventh child in the Krebs family and graduated from NDSCS in '82 with a Clerical Office Assistant degree. Her first job placement was at the Theodore Roosevelt National Park in Medora, N.D. Helen and her husband, Chuck, are retired and live in Spearfish, S.D. They have five children and seven grandchildren.
Jerome Krebs is eighth sibling and an '83 NDSCS Auto Body Repair and Refinishing Technology graduate. He worked 22 years in the collision repair industry, and as an insurance adjuster for more than 14 years. He resides in Dubuque, Iowa and has three children.
Angie (Krebs) Maershbecker, sibling number nine, is a '87 Legal Administrative Assistant graduate. She and her husband, Kent, own and operate the family dairy farm in New England, N.D., where the family of twelve grew up. Angie has been employed as an office assistant with the State of North Dakota for 30 years. They have three sons and two grandsons.
Lori (Krebs) Hewson is the tenth sibling and obtained a Legal Secretary Assistant degree in 1987. She is currently employed as a customer service manager at Family Fare in Dickinson, N.D. She and her husband, Aaron, have three children and two grandchildren.
Joe Krebs, sibling number eleven, is an '89 NDSCS Auto Body Repair and Refinishing Technology alumnus. Joe is employed at BHI as a general mechanic and resides with his wife, Kris, in Dickinson, N.D. They have three children.
The Krebs family continues to be strong advocates of NDSCS from various locations and to the next generation. Four of Joe and Louise's grandchildren attended college at NDSCS, and another is a current student. They include Eddie Krebs, '02 Electrical Technology, Billings, Mont.; Jeremy Krebs, '03 Plumbing, Hardin, Mont; Cory Krebs, '07 Automotive Technology, Hettinger, N.D.; Jordan Maershbecker, '15 Precision Machining Technology, Fla.; and Jaden Krebs from Dickinson, N.D., who recently completed his Automotive Technology degree and plans to come back a third year for Diesel Technology. Brandon Krebs, another grandson, will start his senior year of high school this fall with plans to attend NDSCS in 2021.
The Krebs family shared how NDSCS was a great starting point for many of their family members. They ventured across the state with many other first cousins on the Krebs side and got rides back home by checking outposts on the ride board in the student center. 
Joe passed away in October 2000 and Louise recently joined her husband on January 8, 2019.  The tradition for the Joe and Louise Krebs family started in 1977 and still continues today!
Family Tradition Award - 2019
off
The NDSCS Alumni Foundation Awards are honors bestowed on Alumni and Friends of the College.  These awards recognize individuals or groups that display exemplary achievement, service and loyalty.  They are given annually at the Homecoming Alumni Foundation Awards and Recognition Program.