Help us by nominating candidates for the
2020 NDSCS Alumni Homecoming Honorees
The NDSCS Alumni Foundation 2019 honorees:
Craig Caspers, Alumnus of the Year
Joe & Louise Krebs Family, FamilyTradition Award
Larissa Gilbertson, Wildcat of the Year
Wells Fargo, Friends of the College
Mary Kosel & Linda Patterson, Parade Grand Marshal
Rebecca Truesdell, Commitment to Excellence
Karen Bajumpaa, Commitment to Excellence
Art & Linda Grochow, NDSCS Tradition Award
Alumnus of the Year
Craig Caspers
The NDSCS Alumni Foundation is honored to name Craig Caspers as the 2019 Alumnus of the Year. Craig is a native of Wahpeton, N.D. and is the fourth of six sons of Robert and Bernice Caspers. He attended St. John's Elementary School, graduated from Wahpeton High School and was an all-conference football player. Craig and his brothers often worked for their father at the local Caspers Furniture Store in Wahpeton. Craig attended NDSCS and received an associate degree in Liberal Arts in 1973. Craig played two years for the Wildcat football team and was inducted into the Wildcat Athletic Hall of Fame. Craig married Susan Berseth on June 7, 1974 and they moved to Aberdeen, S.D., where he earned his B.S. in Business Administration at Northern State University in 1977 and played football for the Wolves. Craig worked at a bank in Aberdeen until his father asked him to return home to work in the family furniture business.

After working for ten years at Caspers Furniture, Craig returned to college to obtain his mortuary science degree at the University of Minnesota. In 1987, he began working and managing Vertin Funeral Home in Wahpeton. In 1991, Craig and Sue owned and operated the now Vertin-Munson Funeral Home in Wahpeton. In 2013, the funeral business in Wahpeton and Breckenridge merged and Craig became co-owner of the new enterprise. Craig has worked in the funeral services business for thirty years. He retired in 2018 and enjoys golfing, the annual fishing trip to Canada, and spending time with his family at the lake. He is a respected businessman and has excellent rapport with people in the community.

Craig has served his state and local community as a volunteer, board member and officer in several organizations that include the North Dakota Retail Association, National Furniture Association, Wahpeton Chamber of Commerce, youth football, Junior Olympic volleyball, Optimist Club, Downtown Development, and the Community Development Corporation. Craig served as president of the NDSCS Foundation Board, and past president of the Wildcat Letterwinners Board and Catbacker's Club. Craig also served as a member of the North Dakota State Board of Higher Education for five years and served as vice president for two terms.
Craig supports NDSCS with a scholarship endowment, is a member of the Heritage Club and Catbacker Club, and donates to the DREAMS Auction and other Foundation projects.

Craig lost his wife of 45 years on April 28, 2019. He currently resides in Wahpeton and at Ottertail Lake in Minnesota. He has two children. Christopher and his wife, Jamie, have two sons, Foster and Bauer, and live in Davenport, Iowa. Craig's daughter, Cassie Miller, and her children Halle, Jaeger and Jameson reside in Wahpeton.
Parade Grand Marshal
Mary Kosel & Linda Patterson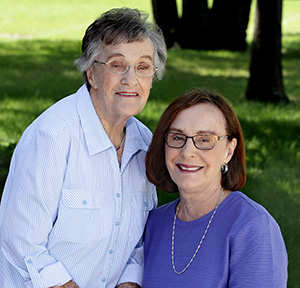 The NDSCS Alumni Foundation is proud to announce Mary Kosel and Linda Patterson as the 2019 NDSCS Homecoming Parade Grand Marshals. Mary and Linda are very deserving of this honor as they led with their philanthropic spirit to maximize the efforts of others making a hands-on agricultural land lab a reality for NDSCS.

Richard and Mary Kosel married in 1947 and started farming north of Wahpeton, N.D. They started with very little, but with luck, prayers, and hard work, were successful. They worked together as a team with their only child, Linda, growing wheat, corn and soybeans. In addition to crops, they had dairy cows, a feed lot operation, and raised many other farm animals. Richard passed away in 2013. Prior to his passing, the family had conversations about finding stewardship projects that would address their love for agriculture and education, and make a difference in the lives of young people.

Linda attended Wahpeton High School, then enrolled at what was then NDSSS. She completed her A.A. degree and went on to Minnesota State University Moorhead. At MSUM, she completed a B.S. in Elementary Education and Special Education. Following her undergraduate work, she taught school in Minnesota. Later, she earned her master's degree in SLD, EBD and Remedial Reading. Recently, Linda retired from teaching and her family decided to focus more on stewardship opportunities in the community. Over the years, Linda worked with many secondary students that were hands-on learners with many talents and had so much to offer to the world. Many struggled in the traditional classroom setting, but excelled in the trade and technical classes. This type of specialized learning environment was of great importance and interest to the Kosel family. They wanted to explore opportunities and support students at the post-secondary technical and trade school level.

In 2017, the Kosel Family Agriculture Land Lab (a 90+ acre plot northwest of Wahpeton) concept was conceived with the collaboration of the NDSCS Alumni Foundation, NDSCS Agriculture department personnel, and many community businesses and friends of the College. In 2018, the first year of the three-year land lease project was completed. The land lab grew soybeans, wheat, and corn. The lab has already produced many benefits for the students, which include hands-on experiences, real-world activities and scholarship opportunities. The lab has given Peterson Farms Seed, RDO Equipment Co., Farmers Union Oil of Southern Valley, Minn-Kota Ag, Goerger Seed, and others the opportunity to share their expertise, equipment, products and other in-kind support to this project.

On March 6, 2019, an NDSCS Kosel Family Agriculture Land Lab Appreciation Lunch took place to celebrate and review the first year. NDSCS Agriculture students, sponsors and staff shared their experiences about the positive impact of the land lab, as well as plans for the next year.
Tradition Award
Joe & Louise Krebs Family
The Joseph and Louise Krebs family has been selected as a recipient of the 2019 NDSCS Family Tradition Award. Eight of Joseph and Louise's children and four grandchildren are NDSCS alumni, and one is a current student. Matt was the first of their twelve children to venture across the state from New England, N.D. to enroll at NDSCS. The Krebs family members came to NDSCS because it offered the programs in their areas of interest, work-study options and strong job placement.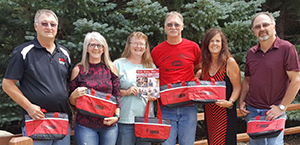 ​The members of the Joseph and Krebs family that attended NDSCS as pictured include: Matt Krebs, Lori Hewson, Angie Maershbecker, Ralph Krebs, Helen Rummel, Joe Krebs, Jerome Krebs and Frank Krebs.
Matt Krebs, the third child in the family of twelve, is a '77 Land Surveying and Civil Engineering Technology graduate and resides with his wife, Kerry, in Dickinson,    N.D. They have two sons and two grandsons. Matt worked for KLJ in Dickinson for 39 years as a professional land surveyor licensed in four states, and retired in January of 2018. Matt played football for the Wildcats and earned All-Conference honorable mention in 1976.​
Frank Krebs, the fourth sibling, is a '79 Automotive Technology graduate. He and his wife, Nancy, live in Hardin, Mont. After graduating from "Science," Frank worked in an auto body shop for 12 years and now is the head mechanic for the school district. They have three sons, who all traveled the 650 miles to attend NDSCS, one daughter and nine granddaughters.

Ralph Krebs, sibling number five, followed his two brothers to NDSCS and enrolled in the Automotive Technology program, graduating in 1979. He was part of the 1977-78 Wildcat football team that was recently inducted into the NDSCS Athletic Hall of Fame. Ralph was married to his late wife, Aggie, for 25 years. He resides in Dickinson, N.D. and works as an automotive mechanic at Sax Motors, a GM Dealership, since graduating from NDSCS.

Helen (Krebs) Rummel is the seventh child in the Krebs family and graduated from NDSCS in '82 with a Clerical Office Assistant degree. Her first job placement was at the Theodore Roosevelt National Park in Medora, N.D. Helen and her husband, Chuck, are retired and live in Spearfish, S.D. They have five children and seven grandchildren.

Jerome Krebs is the eighth sibling and an '83 NDSCS Auto Body Repair and Refinishing Technology graduate. He worked 22 years in the collision repair industry, and as an insurance adjuster for more than 14 years. He resides in Dubuque, Iowa and has three children.

Angie (Krebs) Maershbecker, sibling number nine, is a '87 Legal Administrative Assistant graduate. She and her husband, Kent, own and operate the family dairy farm in New England, N.D., where the family of twelve grew up. Angie has been employed as an office assistant with the State of North Dakota for 30 years. They have three sons and two grandsons.

Lori (Krebs) Hewson is the tenth sibling and obtained a Legal Secretary Assistant degree in 1987. She is currently employed as a customer service manager at Family Fare in Dickinson, N.D. She and her husband, Aaron, have three children and two grandchildren.

Joe Krebs, sibling number eleven, is an '89 NDSCS Auto Body Repair and Refinishing Technology alumnus. Joe is employed at BHI as a general mechanic and resides with his wife, Kris, in Dickinson, N.D. They have three children.

The Krebs family continues to be strong advocates of NDSCS from various locations and to the next generation. Four of Joseph and Louise's grandchildren attended college at NDSCS and another is a current student. They include Eddie Krebs, '02 Electrical Technology, Billings, Mont.; Jeremy Krebs, '03 Plumbing, Hardin, Mont.; Cory Krebs, '07 Automotive Technology, Hettinger, N.D.; Jordan Maershbecker, '15 Precision Machining Technology, Ocala, Fla.; and Jaden Krebs from Dickinson, N.D., who recently completed his Automotive Technology degree and plans to come back a third year for Diesel Technology. Brandon Krebs from Dickinson, N.D., will start his senior year of high school this fall with plans to attend NDSCS in 2021.

The Krebs family shared how NDSCS was a great starting point for many of their family members. They ventured across the state with many other first cousins on the Krebs side and got rides back home by checking posts on the ride board in the student center.

Joseph passed away in October 2000 and Louise on January 8, 2019. The tradition for the Joseph and Louise Krebs family started in 1977 and still continues today!
Friend of the College
Wells Fargo Bank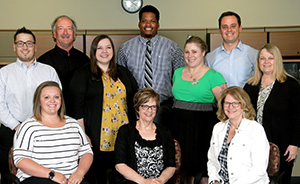 The leadership and support of Wells Fargo Bank is appreciated, and they are an excellent choice for this year's Friend of the College – Distinguished Service Award. Wells Fargo has been an important partner with NDSCS and the Alumni Foundation for two decades. Wells Fargo has been a corporate sponsor of the NDSCS Alumni Foundation for the past 20 years. The services of Wells Fargo and its team members have helped the NDSCS Foundation grow and attain its goals.

Brad Pauly, business banking regional manager for Wells Fargo, was a member of the NDSCS Alumni Foundation Board of Directors from 2000-2009. During his time as a Foundation Board member, Wells Fargo Investment Services shared the duty of investing and managing the Alumni Foundation's endowment accounts.
Annette Loken, Wells Fargo senior business banker, joined the NDSCS Alumni Foundation Board in 2010 and held the position of Board president in 2017. She is currently the Investment Committee chairperson, helping to oversee the investment policies and procedures that govern the Foundation's accounts.

Both of these Wells Fargo employees have shared their time, talents and business expertise during times when the NDSCS Alumni Foundation needed strong leadership. Wells Fargo has supported the DREAMS Auction, the Alumni Foundation's major fundraiser for NDSCS, as a consistent participant, gift donor and by providing event volunteers. Wells Fargo also assists NDSCS with an athletic sponsorship. Well Fargo works toward creating long-term economic growth and improved quality of life for everyone in the communities they serve. They have served the greater Wahpeton/Breckenridge area and the NDSCS community in an exceptional manner. Because of these reasons, we would like to recognize Wells Fargo with the distinguished NDSCS Alumni Foundation "Friend of the College" award.
Commitment to Excellence
Rebecca Truesdell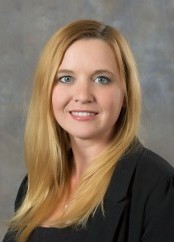 The NDSCS Alumni Foundation would like to congratulate Rebecca Truesdell as a 2019 Commitment to Excellence award recipient. Rebecca earned her A.A.S. degrees in Graphic Arts Technology (2000) and Computer Information Systems – Web Developer (2011) at NDSCS.
She is currently the Publications Specialist and has worked for the NDSCS College Relations and Marketing department since 2012. In 2017, Print Services was added to her responsibilities. Prior to her employment at NDSCS, she worked for 12 years at The Midweek, Inc., in Fergus Falls, Minn.

Rebecca supports the entire NDSCS community with her marketing and design talent. She designs and produces campus recruitment materials, instructional manuals and branded signage, takes photos during campus events, and helps with the requests for Print Services. Rebecca meets production and print schedules for all departments and coordinates internal and external marketing services with other vendors.

The NDSCS Alumni Foundation works with Rebecca to publish the annual Alumni Review magazine, Scholarship book, DREAMS Auction book and the Homecoming program. She also helps to create numerous brochures, campaign fundraising materials, newspaper ads, and reunion and social event publications for the Foundation. Her creativity is displayed all over campus and she is a valuable member of the NDSCS staff.

Rebecca received the college NDSCS Excellence in Service Award in 2015 and is a member of the NDSCS Homecoming Committee.
Rebecca, her husband, Rich, and son, Shea (17), live in Wahpeton. She is a member of the Red River Area Sportsmen's Club, Wahpeton Wrestling Club, Wahpeton Convention and Visitors Bureau and a Boy Scout Troop volunteer. She enjoys reading, freelance design work, golfing, camping, hunting, spending time with family, friends and her dogs.

Simply put – Rebecca Truesdell makes NDSCS look great!
Commitment to Excellence
Karen Bajumpaa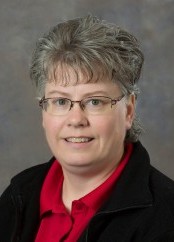 There is one undeniable fact that anyone who has interacted with young adults can attest to: a college student is always hungry. It takes major planning and significant effort to ensure that thousands of them receive adequate nutrition to get them through their day. Karen referenced that the day-to-day operations call for a dynamic staff. "We have a great department; it takes everyone to start and finish the day. We also have great student employees."Karen's family relocated to Wahpeton and she has worked in the NDSCS Dining Services department for 22 years. Karen's current role as Assistant Director of Auxiliary Services includes managing the Flickertail Dining Room, the Wild Grounds Cafe and the NDSCS Catering Services.Congratulations to Karen Bajumpaa, a 2019 Commitment to Excellence award recipient. Karen graduated from the University of Minnesota – Crookston with an A.A. in Dietetic Technician. She interned at the Miller-Dwan Medical Center in Duluth, Minn., then worked at the Grandview Christian Home in Cambridge, Minn. from 1988-1997.

Over the years, Karen has noticed preferences have changed and students with food sensitivities and dietary restrictions have increased. Adding variety to the menus and keeping things fresh is very important.

The NDSCS Foundation has worked closely with Karen through the years to help make the Scholarship Luncheons, Homecoming Socials, and all Foundation-related events and meetings run smoothly. She manages all the dining services and the behind-the-scenes preparations so well. Karen is a great asset to NDSCS team.

Karen and her husband, Don, have three children: Elisha, an NDSCS '15 Liberal Arts graduate; Drew, an NDSCS '18 HVAC/R Technology graduate; and Katrina, a senior at Wahpeton High School. Outside of her role at the College, Karen loves spending time with her family, collecting quilts and Coca-Cola items, and bargain shopping.

The NDSCS Alumni Foundation would like to thank Karen for her dedicated service to NDSCS.
Wildcat of the Year
​Larissa Gilbertson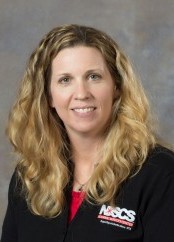 Larissa Gilbertson first stepped onto the NDSCS campus in August 1994 to visit her best friend from high school, Angi Novak. Angi introduced her to Clint Gilbertson that day in the cafeteria, and Larissa married that NDSCS Wildcat in 1996.

Larissa graduated from Minnesota State University Moorhead with her bachelor's degree and her Master of Science in education. She taught middle school and high school students in Warroad, Minn., and Badger, Minn. Her family moved to Wahpeton in 2007 and Clint started teaching in the Welding Technology program at NDSCS. Larissa taught at the Wahpeton Middle School until 2011 when she was offered a position instructing Math for the NDSCS Academic Services Center.

"I absolutely love teaching at NDSCS. The Wildcat students are the best around; they put a smile on my face EVERY DAY!" stated Larissa. She understands that even though we have fun while we learn, many students have even more fun participating in a sport. Larissa enjoys watching students excel and having fun playing their sport.

Larissa earned the student-nominated NDSCS Excellence in Teaching Award in 2012 and 2018. Many students showed their appreciation by honoring Larissa on Faculty Appreciation Day during the NDSCS Wildcat basketball season.

Larissa and Clint have three children: Shea (18), Sidney (13) and Cale (10). They are very active in the community and Clint is the assistant chief for the Dwight Fire Department and served on the Wahpeton Fire Department for 11 years. You will see the Gilbertsons at many of the Wildcat athletic games and performing arts activities. They are members of the NDSCS Catbacker Club and support the Alumni Foundation by donating to the DREAMS Auction. Larissa has always been inspired by her parents, Peggy and Larry O'Shea, to work hard and make things happen.

Congratulations to Larissa Gilbertson, the 2019 Wildcat of the Year recipient!
NDSCS Tradition Award
Art & LInda Grochow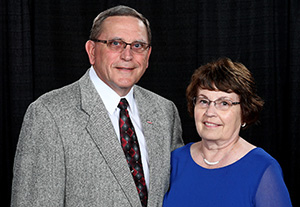 It is our honor to present the Tradition Award to Art and Linda Grochow. This award gives recognition to individuals who helps create a passion for NDSCS through their year-to-year efforts. The award celebrates the building of tradition with the College and highlights the extra efforts of those involved.

Art and Linda exemplify the Tradition Award by their continuous efforts each year as they volunteer countless hours for the NDSCS Alumni Foundation DREAMS Auction. They help procure gifts, cook for the volunteers, work the night of the event and help with tear-down. Art and Linda are also great sports fans and attend just about every type of ballgame at NDSCS and the area high schools. Art announces at football games for NDSCS and runs the clock at the NDSCS basketball games. Linda currently assists the NDSCS Alumni office with keeping their alumni and friends records up to date.

Art and Linda Grochow moved to Wahpeton in the summer of 1993. Art was employed as the elementary principal at Central Elementary. Linda worked as an insurance sales assistant for the DW Herman State Farm Agency.
Art grew up and graduated high school in Anamoose, N.D. then attended Minot State University and received his Master of Education from Northern State University in Aberdeen, S.D. He taught in Courtenay, N.D., Sherwood, N.D., Linton, N.D., and Kenmare, N.D. He thoroughly enjoys all sports. Art was a basketball official for 30 years, umpired softball and baseball for 45 years and worked a number of state and national tournaments.

Linda is a native of Drake, N.D., and attended Capital Commercial College in Bismarck, N.D. She then began her career in the banking and insurance industries.
Together they like to volunteer at NDSCS, church and community events. They are members of Bethel Lutheran Church in Wahpeton.
Art and Linda have a daughter, Nicole, who was a '97 NDSCS Office Administration graduate and lives in Goodhue, Minn.

Their positive volunteer spirit brings smiles to those of us who have the opportunity to work with them. Thank you, Art and Linda, from NDSCS!
off
The NDSCS Alumni Foundation Awards are honors bestowed on Alumni and Friends of the College.  These awards recognize individuals or groups that display exemplary achievement, service and loyalty.  They are given annually at the Homecoming Alumni Foundation Awards and Recognition Program.  Nominations for 2020 will be accepted through Jan. 15, 2020 and voted on by the Foundation Board at the Jan 31, 2020 meeting.