Congratulations to the 2021 NDSCS Alumni Homecoming Honorees
Vanessa Kummer, Alumnus of the Year
The Keller Family, FamilyTradition Award
Kara Gruenberg, Wildcat of the Year
Smith Motors, Friend of the College
Ardeith Richter, Parade Grand Marshal
Tana Erbes and Leslie Shirek, Commitment to Excellence
Alumnus of the Year


Vanessa Hackey Kummer (1974-1976) exemplifies Wildcat excellence –and that is the reason for her selection as the 2021 Alumnus of the Year. Growing up in Litchville, N.D., both her parents, Newell and Eunice (Bohn) Hackey attended NDSCS. While growing up she ran track for the Litchville Trojans, perfecting her form by practicing in her back yard on hurdles her father had built. She was also active as a member of the Women's Inter-Resident Hall Committee, selected to the "Who's Who in American Junior Colleges", and led the 1976 Track team to place in its first national meet. Her outstanding record as a Wildcat was recognized and she was the first woman inducted in to the NDSCS Athletic Hall of Fame in 1987.
Vanessa has been a strong supporter of NDSCS's mission, the Alumni Foundation and Athletics since her time as a student. Rachael, her daughter continued the family NDSCS legacy, and was a member of the last Women's Track team in 2002. Throughout the years, she has also given back to the College through her service on the Foundation Board, hosting events and gatherings, generously donating to various programs, and being a loyal member of the NDSCS Catbackers Club.
Vanessa has shared her leadership skills and talents with her community through serving on the North Dakota Soybean Growers, the United Soybean Board (USB), and Common Ground N.D. In 2011, she was elected the first women to chair the USB and served as a Director for nine years. In addition, Vanessa and husband, Paul, are the farm leaders of "Farmers Feeding the World," a Farm Journal Foundation Group. She has also shared her many talents with her local community through volunteering as a 4-H leader, softball coach, and is an active member of Our Saviors Lutheran Church.
Vanessa and Paul are proud parents to Blaine (Megan) and Rachael. They also have two grandsons, Owen Kummer and Maxwell Schmiedeke – who are hopefully future Wildcats! They still actively farm and live in Colfax, N.D. and enjoy traveling south in the winter.
Parade Grand Marshal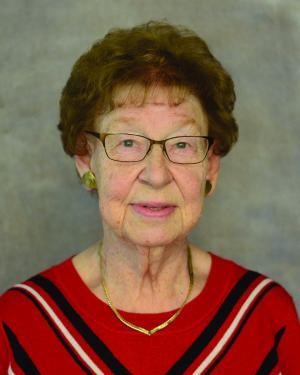 Ardeith Juven Richter is the 2021 NDSCS Homecoming Parade Grand Marshal. For 27 years, Ardeith was an instructor in the Legal Administrative Assistant Program and has continued to be a true NDSCS ambassador. 
Ardeith's educational path started in a one-room schoolhouse near Wyndmere, N.D.; then continued when her family moved to Fergus Falls. After high school she attended NDSCS and furthered her education at Concordia College in Moorhead, Minn., later earning a master's degree from the University of North Dakota. Ardeith Juven returned to NDSSS in 1966 as an instructor – where she would meet Larry, her future husband, who was an instructor in the Accounting Department. When it was time for her two sons, Michael and Jason to go to college, they also attended NDSCS. 
Throughout the years she positively impacted countless students – and enjoys visiting with former students during Homecoming. Ardeith's impact stretches beyond NDSCS. 
As an instructor she was a member of the National Education Association and was asked to speak at their convention in December of 1973 in Atlanta, Ga. Ardeith received the Wahpeton Chamber of Commerce 'Extra Mile' award in 1986, a National Award from the American Heart Association, and the N.D. Merit Mother Award from Governor Ed Schafer in 1993. She co-authored and published a book of biographies of the North Dakota American Mothers Association. Ardeith also served on the Bethel Lutheran Church Education Board for many years. 
In retirement she continues to attend many NDSCS events, enjoys quilting, travel, makes delicious Krumkake; and, most of all, loves spending time with her grandsons Radin and Landis. In 2004, after Larry passed away, she established an endowment in his memory at NDSCS that will allow her to also impact the students of the future positively. Ardeith's dedication and passion for NDSCS is remarkable. 
Family Tradition Award
The Keller Family
Back Row (L to R): Diane Carff, Mary Anderson, Jeanette Mathers, Patricia German, Marilyn Loegering, Barbara Loegering, and Joe Keller, Front Row (L to R): Brian Keller, Mark Keller, Louis Keller, Mary Ann Keller, and Dale Keller
Family traditions run deep in the Keller family; the tradition of attending NDSCS is one of them. Louis and Bernice Keller had ten children. Following Bernice's untimely passing, Louis married Mary Ann. She helped raise the family and passed away in 1985. The patriarch of the Keller family, Louis Keller, was a true innovator. From their machine shop in Rothsay, Minn., Louis and his brother Cyril invented the "Keller Self-Propelled Loader" a compact 3-wheel machine, to clean local turkey barns. In 1958, Louis and Cyril awarded Melroe Manufacturing Inc., of Gwinner, N.D., rights to the patent and joined the company. Together, they would develop the Bobcat Skid-Steer Loader. Eventually, Cyril transitioned to sales, while Louis remained at the factory continuing to design new and improved models of the skid-steer. It is likely that the hands-on nature of Louis' work and innovative personality influenced his children to attend NDSCS. Through the years, nine of the Keller children earned degrees in seven areas. The NDSCS tradition continued with their children, spouses, and grandchildren attending NDSCS. 
Marilyn (Keller) Loegering is a 1964 graduate, earning a degree in Secretarial with Industrial drawing/lettering classes. After graduation she went to work for Ulteig Engineering  in Fargo, N.D. where she did drafting. In 1965, she married George Loegering, they had two sons and three daughters, 14 grandchildren, and four great-grandchildren. In 1970, Marilyn and George took another of Louis' patents and started Loegering Mfg., Inc. They produced the first over-the-tire tracks for skid-steers and other wheeled machines – including the innovative bolt-on versatile track system (VTS). They operated this business for 33 years in Casselton, N.D., selling the company in 2004. Marilyn and George are enjoying retirement in Casselton. Their son, Steve, attended NDSCS receiving an associate degree in Machining/Tool & Die in 1986. He now owns SJ Machine in Casselton, where he produces precision parts. Their son-in-law, Loren, earned a Computer Science degree from NDSCS in 1998.
Jeanette (Keller) Mathers is a 1967 graduate of the Licensed Practical Nursing program. She was employed for over twenty years as a charge Nurse in a nursing home. She and her husband of 54 years have eight children, 20 grandchildren, and eight great-grandchildren. Jeanette commented that her nursing degree was just as beneficial in the home setting as it was in the workplace. 
Barbara (Keller) Loegering graduated in 1968 as a Licensed Practical Nurse. She was employed at Dakota and St. Luke's Hospitals in Fargo, N.D., until 1970. She married Paul Loegering and they had eight children. The couple has 33 living grandchildren, four step-grandchildren, and four step-great-grandchildren. Their grandson, Jeremy McIntyre, is currently enrolled in the Electrical Technology program at NDSCS. Barbara and Paul reside on their acreage northeast of Moorhead, Minn. 
Diane (Keller) Carff graduated in 1969 as a Licensed Practical Nurse. Diane met her husband, Clarence (Butch), while attending NDSCS. Butch graduated in 1969 from Radio, Television, and Appliance Servicing. She worked at Dakota Hospital in Fargo, N.D., before becoming a Navy wife and stay-at-home mom. Butch joined the Navy in 1969, the same year he and Diane were married. After 20 years in the Navy, they retired from the Navy to Pensacola, Fla., where Butch worked as a Remote Service Technician for a bank until retirement. Butch and Diane have five children and 16 grandchildren. 
Patricia (Keller) German took an evening class in Business Accounting in 1993, the year she and husband Jerry opened the Ridge Ballroom in Breckenridge. They both enjoyed getting to know residents of the Wahpeton and Breckenridge communities through their business. Jerry, from Hankinson, N.D., graduated from NDSCS with an Associate of Arts Degree. Patricia and Jerry reside in Somerset, Wis. They are retired and now run a small Caribbean resort in Puerto Morelos, Mexico, where they spend winter months. They have eleven children and 37 grandchildren.
Mary (Keller) Anderson is a 1975 graduate with a degree in Dental Hygiene. She worked for a year and a half as a Hygienist, then took 15 years out of the workforce to raise her children. She went back to work as Dental Hygienist in 1991, and still works one day a week for Kline Family Dentistry in Williston, N.D. She is married to Rodney Anderson. He graduated from NDSCS with an Electronics Technology degree. He was self-employed before going to work for Northwest Communication Cooperative in Ray, N.D., where he has since retired. Rodney and Mary live in Ray, N.D. They have four children, seven grandchildren and two step-grandchildren. Their grandson, Matthew Hanel, is now attending NDSCS working towards a degree in Diesel Technology.
Joe Keller graduated with an A.A.S. Degree in Mechanical Drafting and Design in 1977. After graduation he worked at Loegering Mfg. in Casselton, N.D., until 1980. The fall of 1980, he accepted a position as an instructor in the Mechanical Drafting department at NDSCS. During his time at NDSCS from 1980 through 1989, he completed a one-year Machine Tooling degree and was taking classes toward a Mechanical Engineering degree. In 1989, Joe accepted a job with 3M Data Storage Division in Wahpeton, N.D., and completed his Mechanical Engineering degree while at 3M. This started a 30-year career that went from 3M Wahpeton to Imation Wahpeton (due to the Imation spin off from 3M), then back to 3M Brookings Medical Division in 2006, then to the 3M St. Paul Medical Division from 2010 through 2019. Joe happily retired from 3M in the spring of 2019. In 1982, Joe married Darci Anderson, a 1982 Computer Science graduate, and together they have two children. Justin, lives near Rosco, IL with his wife, Allison and their four children, and Jamie lives in Bremerton, Wash. 
Dale Keller received his Basic Machinist degree from NDSCS in 1978. He then owned and operated Keller Machine Shop on the family farm until 2001. His wife, Colleen, also attended NDSCS in 2003. She graduated in 2006 with an A.A.S Degree in Office Administration and a certificate in Medical Transcription. They have three sons, two are NDSCS graduates. Their oldest son, Nathan, attended from 2000-2002 earning an A.A.S. in pre-engineering and then went on to graduate from North Dakota State University (NDSU) as an Agriculture and Bio-Systems Engineer. Their second son, Tyler, attended NDSCS from 2002-2004 leaving with an A.A.S. degree in Architectural Drafting and Estimating; his wife, Mallory, is also an NDSCS graduate with a degree in Dental Hygiene.
Brian Keller is a 1983 Computer Programming graduate. He went on to attend NDSU graduating in 1987, with a Bachelor of Science degree in Accounting and Business Administration. Brian obtained his CPA certificate in 1989, and worked as a public accountant for ten years and then as a Controller for various companies for more than 15 years. Brian has two sons and is currently living in Fargo, N.D., teaching Accounting at Minnesota State Community and Technical College.
Mark Keller is a 1985 graduate of the Mechanical Drafting and Design Technology program. In 1986, he earned his Pre-Industrial Arts degree at NDSCS. In 1987, Mark joined the United States Air Force and earned his Search and Rescue degree from the Community College Air Force as well as his bachelor's degree in Mechanical Engineering, both in 1996. Mark's wife, Ruth (Underdahl) Keller, is also an NDSCS graduate, earning her Accounting degree in 1986. She currently works as a Systems Analyst for the Municipality of Anchorage. Mark and Ruth live in Eagle River, Alaska. They have four children and two grandchildren.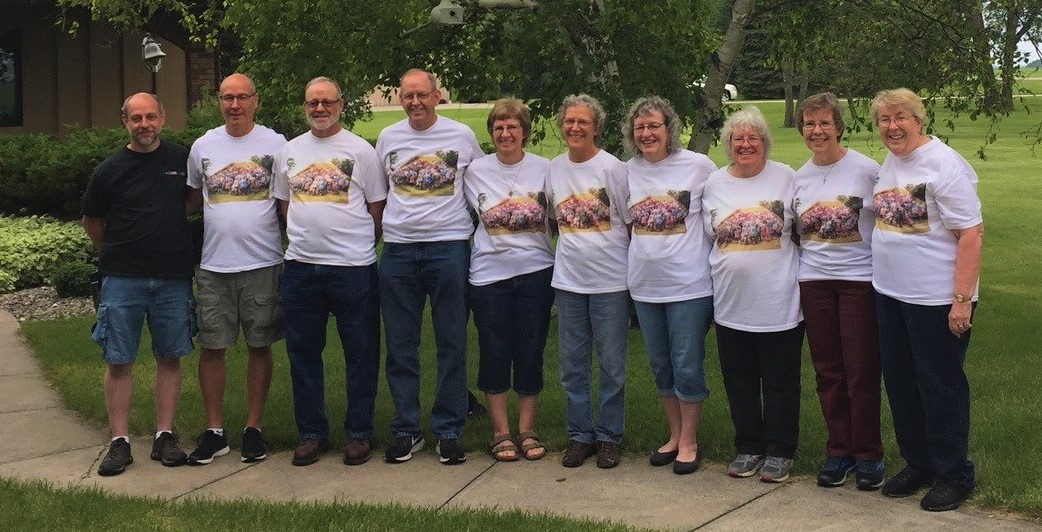 Mark Keller, Brian Keller, Dale Keller, Joe Keller, Mary Anderson, Patricia German, Barbara Loegering, Diane Carff, Jeanette Mathers, Marilyn Loegering 
Friend of the College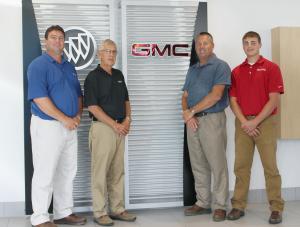 NDSCS is honoring Smith Motors as the 2021 Friend of the College, for their continued support and dedication to the Alumni Foundation. 
Smith Motors and the Sirek family have been serving the community for more than 60 years. Stan Sirek took ownership of the company in 1975; Joel joined the business in 1986, followed by Jason in 1997. In 2017 the third generation started with Parker joining the family business. Smith Motors prides themselves on a tradition of excellence in customer service and satisfaction. They currently have 35 full time employees and five part-time employees (including two NDSCS students). 
Their dedication to creating a strong community is evident through their nearly 20-year history of supporting NDSCS. Joel served on the Alumni Foundation Board for 12 years and currently serves on the Automotive Technology Advisory Board. Jason currently serves on the NDSCS Catbackers board of directors. Smith Motors also generously supports the college financially. They are a Foundation sponsor, a Catbacker sponsor, donate annually to the DREAMS Auction, and provide a vehicle for the annual NDSCS Catbacker Car Raffle every third year. Joel and Jason also enjoy hosting tailgating events for fall and winter sports and can often be found in the stands of NDSCS sporting events. 
Commitment to Excellence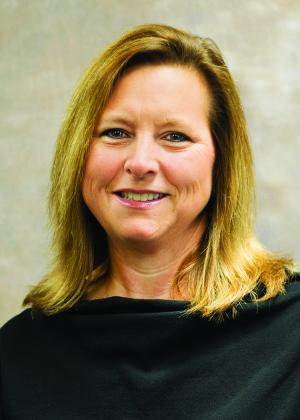 Tana Erbes is receiving the 2021 Commitment to Excellence Award. Tana joined NDSCS in 2016, as a Program Outreach Specialist. Through this role she focuses on assisting 18 academic departments with increasing their enrollment. 
Prior to joining the NDSCS team, Tana worked in healthcare as a Licensed Social Worker. After several years, she began looking for an opportunity outside of healthcare and was a perfect fit for the newly created Program Outreach Specialist position. 
Tana appreciates the many opportunities she has, to help students find their right path; she brings a positive energy and a desire to share the endless opportunities NDSCS has to offer. Her passion for NDSCS is easily seen and felt through interactions with students, families, and fellow staff members. 
Tana describes herself as a natural mentor; she volunteers as a mentor for the Science of Leadership program and serves on the Partnering for Success team. She also serves her community through judging 4-H project days and as a member of the Wahpeton/Breckenridge Chamber of Commerce Board of Directors. 
Although Tana is a University of North Dakota graduate, her family is well-connected to NDSCS. Her husband, Doug, is an Alumnus, her daughter Emmy worked at NDSCS, and her son Easton, currently works in the Athletic Department. Her youngest son, Cade, is an Agriculture student at NDSCS. 
In her off time, Tana enjoys spending time with her family and friends, traveling, lake time, cooking, and finding new bike trails. She especially enjoys spending time with her two-year-old grandson, and looking forward to the birth of her second grandchild.
Commitment To Excellence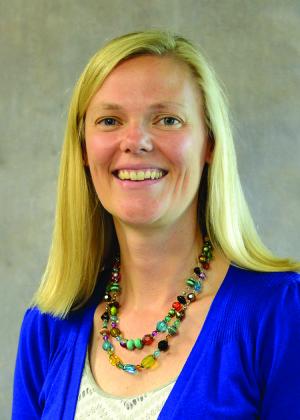 Leslie Shirek is being honored with the 2021 Commitment to Excellence Award. She joined NDSCS in 2016 as a Program Outreach Specialist. In her role, she is focused on increasing enrollment in academic programs that are experiencing low enrollment – but are in high-demand by business and industry partners. 
Her enthusiasm and love for NDSCS are evident when she talks about her time as a Wildcat; a graduate of Minnesota State University Moorhead with a degree in Elementary Education she indicates she 'found her calling' at NDSCS.
Leslie enjoys meeting with prospective students, especially when a student arrives at NDSCS unaware of their career path or interest – then after experiencing all NDSCS has to offer leaves with numerous options and plans to enroll. She explains, "this is what it is all about, showing students what they can achieve in a short time, for a great return on investment." Leslie also enjoys working with school counselors and teachers in her outreach efforts, showcasing all that NDSCS has to offer inside and outside the classroom.
Whether it is updating classrooms and labs, helping to mentor a new faculty member, or reaching out to students, her impact on NDSCS is felt in a variety of ways. Leslie also serves the NDSCS Community on Staff Senate, serving as President for the 2021-2022 year. 
Leslie is from Warren, Minn.; she currently resides near Barnesville, Minn. with her husband, and two daughters. She also serves on the Barnesville school board and on the Lake Agassiz Education Cooperative board. In her free time, she loves to be outside gardening and running.
Wildcat of the Year
Kara Gruenberg is the 2021 recipient of the Wildcat of the Year award. As a long time member of the Catbacker Club, Kara can often be found cheering on student-athletes and enjoying NDSCS Performing Arts events. Kara shared, "I enjoy supporting the students both in the classroom and on the field, court, or stage. It is especially important for me to be there for those students that are here from a distance. I want them to feel supported by me since their family is far away."
Kara was raised on a farm near Wolverton, Minn.; attended and graduated from Breckenridge High School. She continued her education at Moorhead State University and earned a bachelor's degree in Mathematics Education. Kara reflects that she remembers wanting to be a teacher since 5th Grade, a career path that was influenced by her mother who was a teacher. 
Following graduation Kara was drawn back home and started her professional teaching career at Breckenridge High School. In October of 1992, she accepted a math tutoring position at NDSCS and quickly fell in love with the Wildcat community and the Wildcat way. Later that year, Kara accepted a full-time teaching role at NDSCS. She credits her success inside the classroom to the many mentors that showed her how to be an effective instructor – but also the importance of creating connections with the students. Kara shared, "everyone works here for the right reason, it's the personal connections at NDSCS that make a difference and that's what I love about working here."
Kara is a role-model to her students through continuing her learning while also teaching; she has earned two additional degrees from NDSCS. A Technical Studies degree in 2005, and Automatic Manufacturing in 2008. She currently splits her time teaching Technical Algebra and Trigonometry in the Electrical department and teaching Algebra Prep Courses for the Academic Services Center. Kara also just completed her first year serving as the Department Chair for the Academic Services Center.
off
The NDSCS Alumni Foundation Awards are honors bestowed on Alumni and Friends of the College.  These awards recognize individuals or groups that display exemplary achievement, service and loyalty.  They are given annually at the Homecoming Alumni Foundation Awards and Recognition Program.