10/19/2023

7:00 PM

-

9:00 PM
Harry Stern and Ella Stern Cultural Center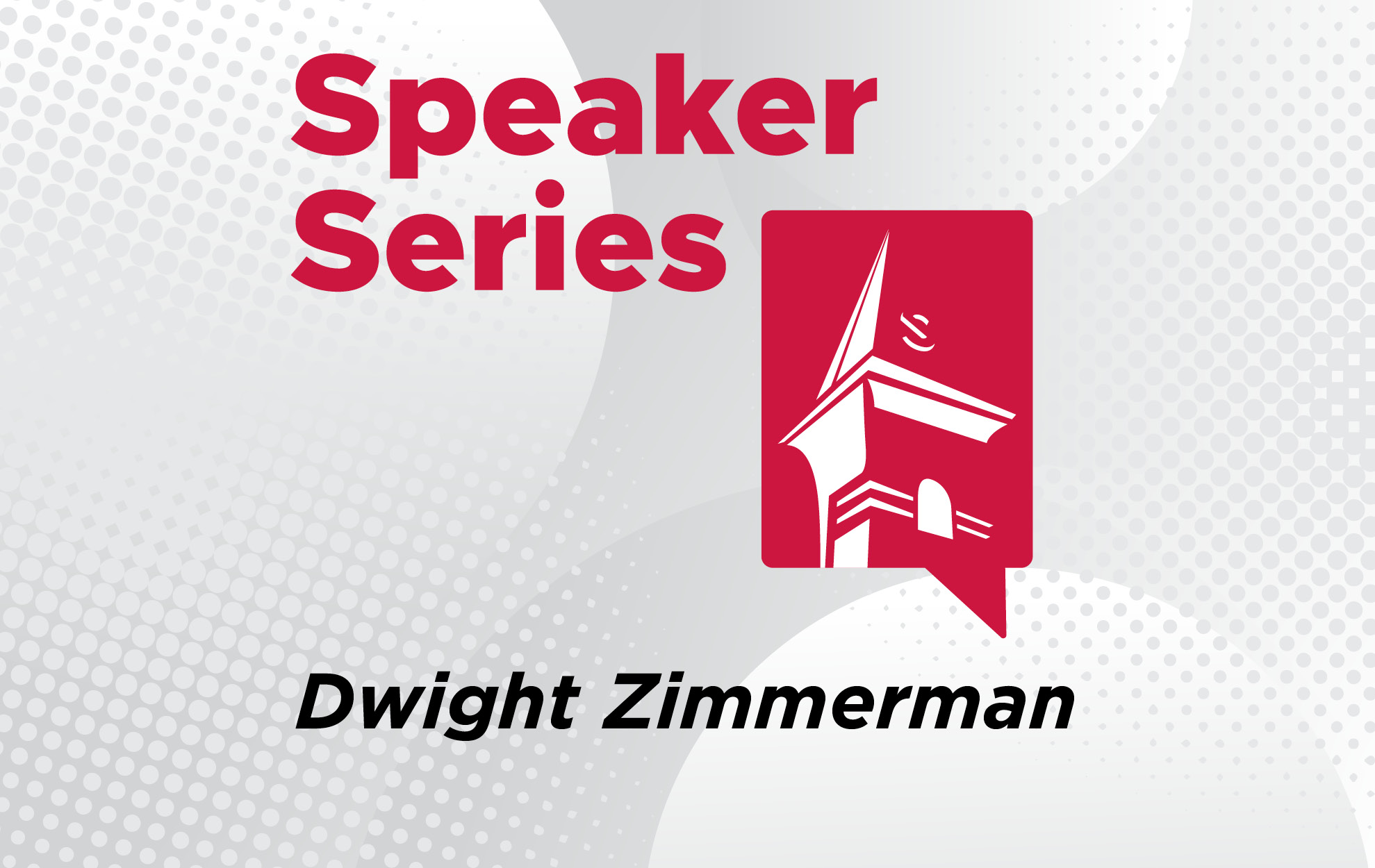 SAVE THE DATE for the new alumni Speaker Series:
Speaker: Dwight Zimmermann
Date: October 19, 2023
 
Celebrate an evening in Wahpeton on Thursday, October 19th.  Enjoy attending the Red Door Art Gallery Membership Appreciation event and NDSCS Alumni Foundation Speaker Series. The evening is sure to be remarkable. 
 
Dwight Zimmerman Biography
DWIGHT JON ZIMMERMAN is a bestselling and award-winning author, radio show host, producer, and former president of the Military Writers Society of America. A writer of extraordinary scope in genres, he has written everything from comic books to young adult and adult histories and biographies, and more. He has received critical praise for his skill in adapting bestselling adult works into the young adult and graphic novel and graphic biography formats.
Zimmerman's latest work is for the BEYOND BELIEF ongoing anthology series. Scheduled for release twice a year, on Memorial Day and Veterans Day, the series recounts astonishing real-life accounts of military heroes actions during wartime. Books released include: BEYOND BELIEF: True Stories of American Heroes That Defy Comprehension, BEYOND BELIEF: TRUE STORIES OF U.S. NAVY HEROES THAT DEFY COMPREHENSION, and BEYOND BELIEF: True Stories of Military Chaplains That Defy Comprehension.
Zimmerman is the co-author, with Bill O'Reilly, of the New York Times #1 bestselling LINCOLN'S LAST DAYS, a young adult adaptation of Bill O'Reilly's bestselling KILLING LINCOLN. LINCOLN'S LAST DAYS won the 2013 Branson Stars and Flags Grand Prize, the second year in a row that Zimmerman received the organization's highest honor.
His first book, FIRST COMMAND: Paths to Leadership, which has a foreword by James M. McPherson, presents the pivotal challenges and events that occurred in the early careers of generals from George Washington to Colin Powell and how they overcame them. Zimmerman was the co-executive producer of the cable television miniseries based on his book. The miniseries debuted on the Military Channel in 2005 and has been regularly aired on the channel ever since. It won the 2005 Aurora Platinum Best of Show Award for Historical Programming. In 2009, the book received the Branson Stars and Flags Gold Medal Award in the Reference/Technical category. First Command is on the U.S. Army Chief of Infantry Recommended Reading List: Junior NCOs.
Zimmerman's previous books include TOP GUN: 50 YEARS OF NAVAL AIR SUPERIORITY. It is an exciting history of the U.S. Navy's fighter pilot training program that includes the origin and evolution of aviation combat and the impact of the Tom Cruise "Top Gun" movie, THE LIFE STEVE McQUEEN which highlights the cultural impact of the iconic star of the movies "Bullitt," "The Magnificent Seven," and "The Great Escape."
Zimmerman has written numerous graphic histories and biographies and the graphic novel adaptation of a classic business philosophy book. They include STEVE McQUEEN FULL THROTTLE COOL, the graphic biography of actor/racer Steve McQueen, with art by Greg Scott. He also collaborated with Scott on AREA 51 THE GRAPHIC HISTORY OF AMERICA'S MOST SECRET MILITARY INSTALLATION. It gets behind the scenes and reveals the amazing story of one of America's most controversial secret military installations. Zimmerman wrote the script for THE GOAL: A BUSINESS GRAPHIC NOVEL, an adaptation of the #1 business book of all time. It received critical acclaim for its ability to distill Eliyahu Goldratt's Theory of Constraints business philosophy originally presented in his book THE GOAL, into a clear, concise narrative praised as "brilliant." Other works in the format include THE VIETNAM WAR: A Graphic History, illustrated by Wayne Vansant, a ground-breaking book that for the first time recounted the entire Vietnam War in the graphic novel format. It received the 2010 Gold Medal Award: Artistic/Graphic from the Military Writers Society of America and the 2010 Branson Stars and Flags Gold Medal Award in the photography/graphics category. Military Review, the official journal of the U.S. Army, placed it on its recommended reading list. THE HAMMER AND THE ANVIL, also drawn by Wayne Vansant, is a critically-acclaimed dual biography of abolitionist Frederick Douglass and Abraham Lincoln.
Zimmerman's book, SAGA OF THE SIOUX, a young adult adaptation of Dee Brown's classic history of the American West, has been acclaimed by critics as "a powerful work" (School Library Journal), "a masterful adaptation" (VOYA), "cogent, heartbreaking narration" BCCB, "history classes and others interested in this period will welcome this offering" (Booklist), and others. It received the 2012 Gold Medal in the Young Adult Non-Fiction category from the Military Writers Society of America and the 2012 Branson Stars and Flags Book Awards Grand Prize, the organization's highest honor.
Zimmerman has written a series of articles commemorating the 70th anniversary of World War II for Defense Media Network chronologically recounting events of that conflict. They offer a fascinating mix of history and human interest and can be read for free at Defense Media Network's website: www.defensemedianetwork.com. His other work for Defense Media Network has included articles on advanced technology lethal and non-lethal weaponry under development by DARPA, amongst other subjects.
Zimmerman has written numerous articles on military subjects for Faircount Media and other publishers. His article, "Maritime Mobility," for The Shield of Freedom, an annual publication about the Coast Guard, was selected by the Naval War College for use in its curriculum. And his article about a special operations mission during the Korean War led by the theater's surgeon general that had high-stakes diplomatic consequences, originally published in The Year in Special Operations 2009 was selected for re-publication by the Journal of Special Operations Medicine.
Zimmerman is the co-author, with John D. Gresham of UNCOMMON VALOR: The Medal of Honor and the Six Warriors Who Earned It in Afghanistan and Iraq, which has received the Military Writers Society of America's most prestigious honor, the MWSA Founder's Award for 2010.
Zimmerman has written two acclaimed popular surveys of wars and weapons through the ages. THE BOOK OF WAR, about pivotal battles, leaders, and strategies from ancient to modern times, received the 2009 Gold Medal Award for Reference by the Military Writers Society of America. This was followed by THE BOOK OF WEAPONS, a critically acclaimed sequel about important weapons, weapon designers, and arms manufacturers and merchants throughout history.
Zimmerman's young adult biography, TECUMSEH: Shooting Star of the Shawnee, received the 2010 Bronze Medal Award: Young Adult Non-Fiction from the Military Writers Society of America.
Zimmerman is the co-author, with John D. Gresham, of the critically acclaimed history of seven pivotal special operations from the Vietnam War to present day, BEYOND HELL AND BACK.
Zimmerman has been a guest lecturer at the U.S. Military Academy at West Point and the Naval War College.
He was a producer for the independent film, Trooper, which received the Bronze Remi Award at the 2010 Houston International Film Festival.
Zimmerman was the host of the Veterans Radio program "At Ease" which interviewed historians about their latest books. Guests included bestselling authors Rick Atkinson, Robert Edsel, Larry Bond, Thomas Fleming, amongst others.
Zimmerman was the researcher for THE NEW YORK TIMES COMPLETE HISTORY OF THE CIVIL WAR, edited by Craig L. Symonds and Harold Holzer with a forward by former president Bill Clinton, and THE NEW YORK TIMES COMPLETE WORLD WAR II edited by Richard Overy with a forward by Tom Brokaw.
Zimmerman began his career in publishing at Marvel Comics, where he held a variety of editorial positions. Among his Marvel comic book writing credits are stories for Spider-Man, The X-Men, and The Hulk, and other superheroes. In 1992, Zimmerman became executive editor of Topps Comics and was responsible for the editorial and art direction of its lines of media tie-in comics including series based on The X-Files, Mars Attacks, Jurassic Park, Zorro, Xena: Warrior Princess and other titles. In addition, Zimmerman was the writer, editor, and art director of Princess Diana the graphic novel biography of Diana, Princess of Wales published by Topps.
Zimmerman is a native of Devils Lake, ND. He graduated from North Dakota State College of Science in 1974.He presently lives in Brooklyn, NY, with his wife Joëlle. They have two adult children.
Come enjoy an evening with Dwight J. Zimmerman 1974 NDSCS alumnus and guest Perry Miller, 1981 NDSCS alumnus who is sure to enlighten, inspire, entertain and lead a provactive discussion with a one-on-one interview.
This event, co-sponsored by the Wahpeton Daily News is open to the public. Refreshments Served. Dwight will have a limited number of books available to purchase and autograph.
See the printable event flyer here. 
https://www.amazon.com/stores/author/B001IOF8GI/about