NDSCS will celebrate its 100th Electrical Technology Anniversary in 2023! To recognize this milestone, a celebration will be held May 12 and 13, 2023. 
Programs housed Barnard Hall are also invited to participate in this event. Watch for more details to come soon!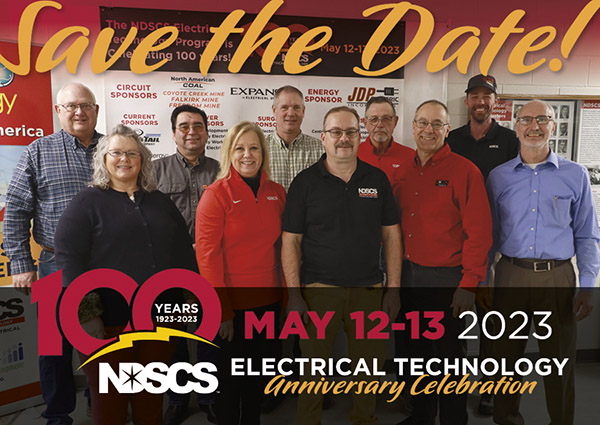 Event Schedule
Friday, May 12
12 - 3 p.m. Early Check-in
Hektner Student Center
3 p.m. NDSCS Graduation Ceremony
Clair T. Blikre Activities Center
Look for designated area for Alumni
5:30 p.m. Social
City Brew Hall, Downtown Wahpeton
Warm appetizers served until gone. Cash Bar. 
Saturday, May 13
8 - 10 a.m. Registration
Hektner Student Center
9 a.m. Breakfast & Program
The Alley, Hektner Student Center
10 a.m. - 12 p.m. Campus Tours
11 a.m. - 1 p.m. Family Picnic
Barnard Hall
11 a.m. - 3 p.m. Family Activities
Barnard Hall
Inflatables, Face Painting, Hands-on Electrical Experiments, Music & Games
Gather your friends for group photos
2 - 3 p.m. Ice Cream Social
Barnard Hall
5 p.m. Banquet Registration
Wahpeton Event Center
Cash Bar
5:30 p.m. Social Hour
6:30 p.m. Dinner
7:30 p.m. Program
8:30 p.m. Comedian Moody McCarthy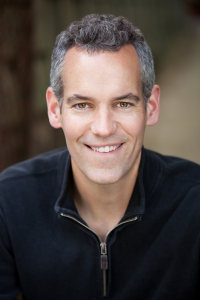 Moody McCarthy — Comic/Writer/Comic Writer
   Moody McCarthy is a stand-up comedian who has performed on Jimmy Kimmel Live, Conan, and twice on the Letterman Show. He can be seen in North America's top clubs and heard on Sirius/XM radio.
  Moody began his career in his hometown of Syracuse, NY, and is now based in New York City, where he lives with his wife and two wee lasses. Moody's material is described as original but universal, and smart without being trite. Couple that with a disarming presence & in-the-moment chops, you'll see why he's earned the respect of his peers for his ability to "go up cold". His style also translates well to virtual shows and during the pandemic he delighted Pfizer's senior global team with a performance. (What a hero.)
   Corporate events, fundraisers, private shows, Zoom meetings – you name it, this versatile performer will brighten any event.
   Moody McCarthy: few people hate him!
TV: Conan (TBS); Late Show with David Letterman (CBS, 2012 & 2014); Jimmy Kimmel Live (ABC); America's Got Talent (NBC); Last Comic Standing IV (NBC); Star Search 2003 (CBS); Gotham Comedy Live (AXStv); HGTV's House Hunters (2019); The Early Show (CBS); The Bob & Tom Show (WGN); MSG Network; Style Network; CTV (Canada)
ETC.: SAG/AFTRA member; trained at Joanna Beckson's Acting Studio; performed comedy in China and now speaks 3 words of Mandarin.
Event Schedule
Hotel Accommodations
Reserve your room by April 12, 2023. Rooms are reserved under "NDSCS Electrical Reunion."
Baymont Inn and Suites: 701-642-5000
1800 210 Drive, Wahpeton
AmericInn: 701-642-8365
2029 210 Drive, Wahpeton 
Travelodge: 701-642-8731
995 21st Ave N, Wahpeton 
 
Hotel Accommodations
Sponsors
Circuit Sponsors
North American Coal
Coyote Creek Mine
Falkirk Mine
Freedom Mine
Expanse Electrical Co.
Power Sponsors
A & K Development
Cass County Electric
Electric Utility Workshop
Parsons Electric
Scott's Electric, Inc.
Surge Sponsors
Basin Electric Power
H & H Electric
Lake Region Electric
Co-op & Operation Round Up
Lesco, Inc. 
Montana Dakota Utilities
North Central Electrical League, Inc. 
Summerville Electric
Bergstrom Electric, Inc. 
Energy Sponsors
JDP Electric Inc.
Current Sponsors
Otter Tail Power Company
Xcel Energy
Encore Electric
Fuse Sponsors
Border States Electric
Central Power Electric Cooperative, Inc. 
Dakota Valley Rural Electric Co-op
Eagle Lake Electric
Gary & Son Electric, Inc. 
International Association of Electrical Inspectors
North Central Electrical Engineering Society
North Dakota Association of Rural Electric Co-op (NDAREC)
Northern Plains Electric Cooperative
off
Find a printable brochure, including reunion information, schedule of events, and hotel accommodations here. 
 
---
100th Anniversary Committee Members: Kim Nelson, Ivan Maas, Yoney Fobb, Barb Uhlich, Lori Pithey, Ken Kjar, Dennis Bader, Jerry Gilsdorf, Rebecca Truesdell, Denise Laymon, John Freden, Michele Flanigan