NDSCS celebrated it's 100th Electrical Technology Anniversary in 2023! To recognize this milestone, a celebration was held May 12 and 13, 2023.
Programs housed in Barnard Hall were also celebrated during the event.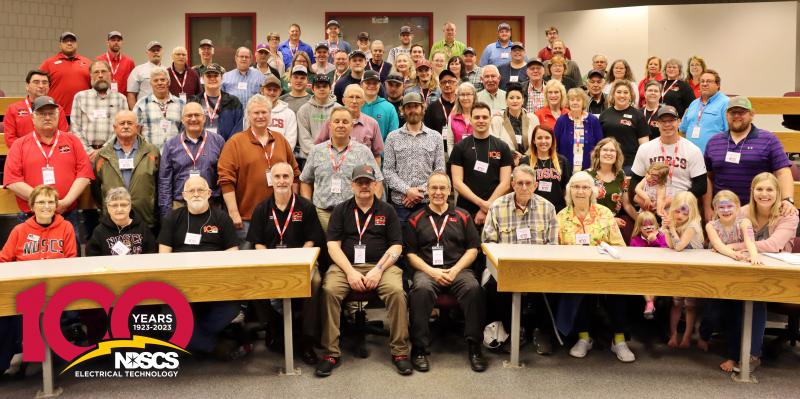 Event Sponsors
Circuit Sponsors
North American Coal
Coyote Creek Mine
Falkirk Mine
Freedom Mine
Expanse Electrical Co.
Power Sponsors
A & K Development
Cass County Electric
Electric Utility Workshop
Parsons Electric
Scott's Electric, Inc.
Surge Sponsors
Basin Electric Power
H & H Electric
Lake Region Electric
Co-op & Operation Round Up
Lesco, Inc. 
Montana Dakota Utilities
North Central Electrical League, Inc. 
Summerville Electric
Bergstrom Electric, Inc. 
Energy Sponsors
JDP Electric Inc.
Current Sponsors
Otter Tail Power Company
Xcel Energy
Encore Electric
Fuse Sponsors
Border States Electric
Central Power Electric Cooperative, Inc. 
Dakota Valley Rural Electric Co-op
Eagle Lake Electric
Gary & Son Electric, Inc. 
International Association of Electrical Inspectors
North Central Electrical Engineering Society
North Dakota Association of Rural Electric Co-op (NDAREC)
Northern Plains Electric Cooperative
off
Find a printable brochure, including reunion information, schedule of events, and hotel accommodations here. 
 
---
100th Anniversary Committee Members: Kim Nelson, Ivan Maas, Yoney Fobb, Barb Uhlich, Lori Pithey, Ken Kjar, Dennis Bader, Jerry Gilsdorf, Rebecca Truesdell, Denise Laymon, John Freden, Michele Flanigan